With Easter holidays fast approaching and a substantial amount of music heads jetting off to the U S of A to partake in Coachella frivolities, we, the(in)terns, anticipate long plane, train and automobile rides ahead for many of our readers. Accordingly, we've taken it upon ourselves to help you construct the ultimate playlist to accompany the long hauls and sleepless journeys. Here are 8 songs that need to be included on all travel playlists.
The 'Parting is Such Sweet Sorrow' Song
Maybe it's your family, maybe it's your cat, maybe it's your bed and favorite granola. Whatever the case may be, one thing assured by all travel plans is that you will inevitably be leaving someone or something you love at home. Pack your bags, put them at the front door, do a couple of last minute checks (do a couple more) and pause for a moment to remember all the good you have to come back to.
The 'Lets Get This Party Started' Song
Enough of that. Lets blow this joint!
The 'Everyone Knows the Words to This Bad Boy' Song
Because, Beyonce.
The 'Where the snacks at' Song
No matter how long the journey, snacks are a must. There's something strangely hopeful about catching that first whiff of a sweet, sweet sugary snack or hearing the first crunch of a salt and vinegar chip, distant on the backseat. Snacks promise a fulfilment on what can often seem like a never ending road or long haul flight... That is until the sugar high crashes and all hope is lost.
The 'I Never EVER want to Hear This Again' Song
In years to come, when this song finds its way onto mix 106.5, and it's library of great classic hits, you'll be driving your kids down the dusty road to suburbia and its promise of yet another game of soccer, football, netball, <insert cursed extra curricular activity here>, when suddenly you'll be thrust back in time to a trip you took one Easter break with your BFFs - wait, where are they now? - and reminded of your wayward youth and that time you lived off salt and vinegar chips for 16 hours. This will be your Easter anthem.
The 'White Noise' Song
Unlike the bombastic nature of songs 2 through 5, consider this song a bit of a ninja. It'll sneak in, anonymously fill the cracks of excited conversation with an innocuous hum and without you knowing, soon form the backing track to your journey.
The 'I'm Going to Take This Opportunity to Contemplate Life, the Universe and Everything' Song
While road trips lend themselves to countless rounds of eye spy and fun games of who can remain sane the longest, they also lend themselves nicely to sitting back and indulging in a little bit of "me" time. This is a song to break out about midway through your journey; that place happily located somewhere between the initial excitement of embarkation and the frustration that inevitably creeps in when you realise it's been a solid two hours since you last felt your ass. *Stares dreamily off into the distance*
The 'Maybe if I Go to Sleep, We'll Get There Faster' Song
Born from pure boredom-come-frustration, this track is pure tactic. Put it in on, fall asleep and, just like your own personal time machine to utopia, wake up somewhere free of cramps and the smell of unwashed armpits.
The 'OMG There's Only Half an Hour Left Until I Can Stand Up and Do Something About the Pins and Needles in My Ass' Song
This one is all about anticipation, baby! YOU'RE ALMOST THERE! Almost time to shake ya booty.
Side note: Premature booty shaking should occur in a manner conscious of all safety restraints, road rules, and/ or the person you've been fighting over the armrest with since before the dawn of time.
It's that time of year again. The rumour mill surrounding Splendour In The Grass is running in overdrive and while some acts have confirmed that they will make the trip, many are still just possibilities. Never ones to back away from a guessing competition, we've compiled a list of some names we expect to see on the line-up when it is released next Wednesday, April 23.
The Black Keys
The Black Keys still owe Australia. Despite touring Australia nationally in 2012, they cancelled on a heartbroken BDO audience in 2011. With the new album, Turn Blue, on its way, a headline set at Splendour would be a glorious return for the duo.
Chances: Their last festival is Latitiude in the UK on the 20 July- plenty of time to head down under for some Byron sunshine.
Outkast
Outkast are another hot contender for the headline spot. They reunited for their 20 year anniversary at Coachella this month and are set to play over 40 festivals over the globe. There is a Splendour-sized hole in their touring schedule too.
Chances: Lock it in, I'd say.
The Preatures
Straight off the back of a stellar slot at Coachella and an American tour, The Preatures could make a heroic return to Australia capped off by a set at Splendour In The Grass. In the past, Splendour has booked many artists (The Jezabels, Chet Faker, Flume) that have their ultimate live breakthrough and splendour and Isabella Manfredi and co. could just be the next one.
Chances: Count on a mid-afternoon sing-along to Is This How You Feel? In Byron.
MØ
Danish pop star, MØ, did a short jaunt around the country last year, however, she is yet to play it a festival crowd here. With her debut album, Mythologies To Follow, out, she could fill a Splendour up and comer slot easily.
Chances: Her schedule says, yes, it just depends on whether she's Splendour material.
Blood Orange
Dev Hynes is due for an Australian tour. He hasn't been here since he supported Florence and the Machine in 2012 and with a new album out he's got plenty of material to flaunt. He's impressed festival audiences across America and Europe. Maybe it's about time he did so here.
Chances: Fingers crossed, but no certainty.
Cut Copy
They played Future Music Festival but surely Splendour is their more favoured stomping ground. They killed it back in 2011 and would do the same again in 2014 armed with a whole new bag of tricks off the new album, Free Your Mind.
Chances: Their national tour in May suggests that it may be a big ask to come back again in July but they must be used to the jet-lag by now. It would require a hasty turnaround to play Osheaga Festival the weekend after.
Foster The People
With a new album out, Foster The People will no doubt be trying to fit in a trip down under. Splendour, which they played as youngens in 2012, could be the perfect place for a main stage debut in Australia.
Chances: Every other festival will also be trying to snap them up. Splendour could be too early in the promo cycle.
Duck Sauce
With a new album Quack out next weekend, A-Trak and Armin Van Helden could be up for a jaunt down-under. They would be a perfect addition to the dance line-up and would likely pull a large crowd.
Chances: A possibility if they haven't already been snapped up by Stereosonic or Listen Out.
Courtney Barnett
Barnett is possibly the biggest Aussie name in the international music scene at the moment. She's become an NME darling and is booked to play some of the largest festivals on the circuit including Coachella and Sasquatch. It could be a triumphant glory-run, if she returned home for Splendour.
Chances: She has July off so it could be a good chance to pop back home.
Modest Mouse
This one could be a long shot but the band are playing a number of festivals this Summer and have a touring gap to play Splendour. The only way we'd excuse the absence is if they were holed up recording their sixth album. It's been nearly seven years since their last, We Were Dead Before The Ship Even Sank.
Chances: Slim but a definite potential none the less.
http://www.youtube.com/watch?v=62zslOQLuQ8
SBTRKT
The masked producer was in Australia last year for a quick visit, but a big festival show is long overdue. Particularly when he has just released a new EP, Transitions.
Chances: He's playing Fuji Rock in Japan the same weekend. Splendour has been known to share acts with Fuji. Pencil him in.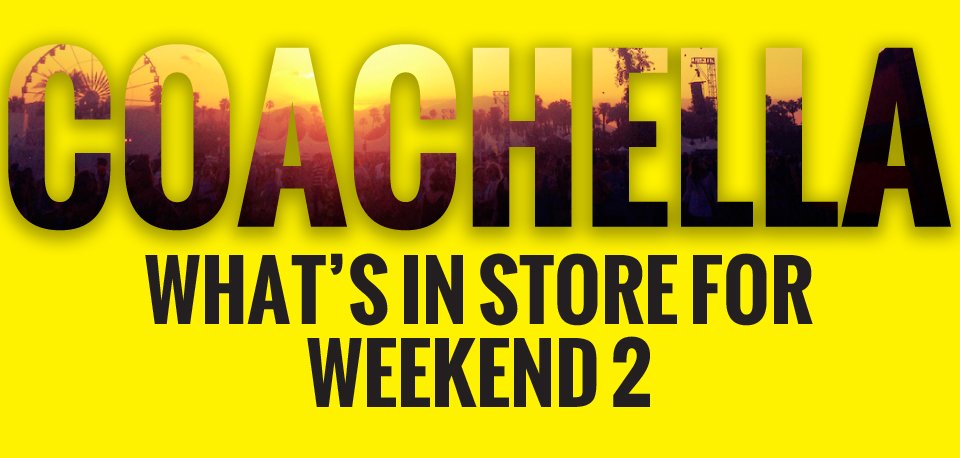 If you missed the stream last week, now's your second chance to right your wrongs. Week One brought with it a plethora of guest appearances, left of centre covers and euphoric moments. If you're there on weekend two like us, you have the rare benefit of hindsight. For those who are streaming, you also get to decide who's worthy of taking up your weekend mornings on YouTube.
Outkast
Big Boi and Andre 3000 had mixed responses last weekend. While their career-spanning set was jam packed with classic Outkast, 3000 seemed to lose interest about halfway through, culminating in a performance of Hey Ya with his back turned on the crowd. Here's hoping he gets his shit together come weekend two and matches the faultless energy of Big Boi.
Pharrell
The Man of the moment, Pharrell, put on a star-studded event being joined by the likes of Gwen Stefani, Diplo and Snoop Dogg. While his voice let up, the energy level never dropped as he rolled out hit after hit to a crowd unphased by the dust storm. As his voice drew its final note, he announced that next week he'd be back bigger and better. Well then Pharell, over to you...
HAIM
Haim are the quintessential LA band and so Coachella is the perfect festival for them. There's really no more to say apart from the fact their debut album is so damn accessible it's almost impossible for anyone to deny the ear candy coming right at you. On weekend one, Este told the crowd she wanted to hear the sound of ass claps- what more could you want in the Californian desert.
Girl Talk
It's a surreal experience watching Girl Talk in your bedroom at 4pm on a Friday afternoon with an uncontrollable feeling to dance. Gills is one of the only acts of the weekend who's energy translated through the YouTube stream. If you're in the mood for a booty shake, Greg Gills is the most consistent of performer. It's unlikely he'll let you down.
Chance The Rapper
At only 21, Chance is probably the biggest new name in rap music. His Coachella set was jam packed with tracks off his fantastic mixtape, Acid Tapes; perfect for a mid-afternoon grind. Last week he brought on Justin Bieber- luck or misfortune, you be the judge.
Arcade Fire
The Sunday headliner is always bound to be a classic but, wow, do they put on a sound. The added disco flavours of Reflektor sit nicely alongside the other three records. Also Blondie came out last week for a cover of Heart of Glass. I wonder if they can top his next week.
Solange
We're hoping an album is close to being finished but for the time being we're content with the fact that Solange was the queen of the desert last weekend. She brought on Beyonce at the end of her set for a dance-off but the moment belonged to the quirky sister. She had the crowd in a flurry of movement, particularly with her flagship song, Losing You.
Chromeo
The Canadian funksters had us dancing in front of YouTube on Friday night. They deliver such a high energy set and with new tracks from their forthcoming album, White Woman, to show-off they really took height. Jealous (I Ain't With It) was a particular stand-out working the crowd into a well-deserved sweat.
Adelaide-born beats wizkid Motez delivers this week's Weekend Windback with his fresh remix of Madison Avenue's "Don't Call Me Baby". Celebrating 21 years of local label Vicious Recordings, this all Australian re-rub stays true to the catchy mood of the original millennium hit, but adds his own signature bass line and slick modern synth to keep you up and moving.
This ingenious house innovation adds to an impressive list of singles from this bass, fast-rising producer. Cementing himself in the 2014 Aus music calendar, Motez is supporting Disclosure in their Melbourne tour leg this May, and set to release a new EP in April through Sweat it Out.
[soundcloud]https://soundcloud.com/tonicollision/dont-call-me-baby-motez-remix[/soundcloud]
Welcome to Weekend Wind Back, the first of our weekly feature in which we find the best remake of a classic song from the week that was and deliver it right here for listening pleasure.
Rounding out this week is Chitown duo, Autograf and their remake of the Marvin Gaye, all American classic, Grapevine. A glitchy rendition laden with steady snaps and heavy on the Nicholas Jaar influence, this remake lets Gaye's vocals linger, soulfully as ever, over an initially paired back intro before moving full throttle into pure dance territory. More often than not, remakes of such iconic songs have a tendency to lose the integrity of the original beneath thumping bass lines and synth-happy crescendos. Autograf manage to steer clear of this territory in their truly modern rendition of the 1960's classic.
[soundcloud]https://soundcloud.com/autografmusic/marvin[/soundcloud]
©2017 THE INTERNS MUSIC, ALL RIGHTS RESERVED.