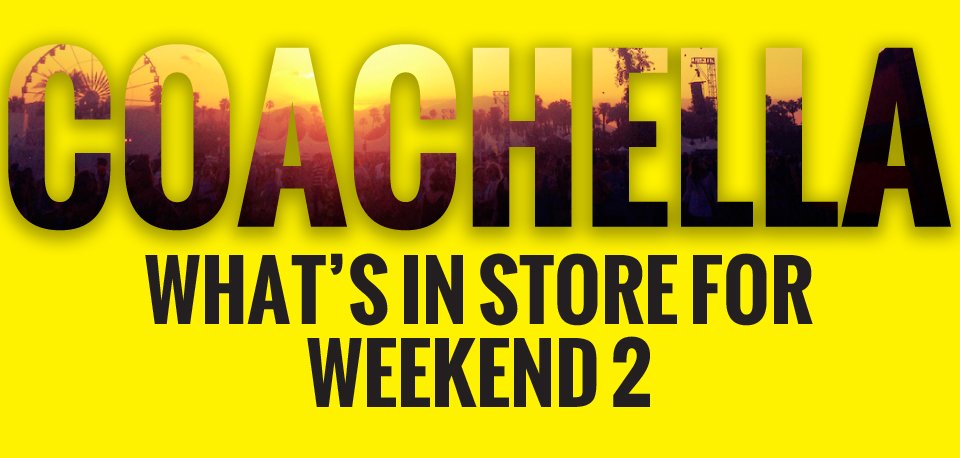 If you missed the stream last week, now's your second chance to right your wrongs. Week One brought with it a plethora of guest appearances, left of centre covers and euphoric moments. If you're there on weekend two like us, you have the rare benefit of hindsight. For those who are streaming, you also get to decide who's worthy of taking up your weekend mornings on YouTube.
Outkast
Big Boi and Andre 3000 had mixed responses last weekend. While their career-spanning set was jam packed with classic Outkast, 3000 seemed to lose interest about halfway through, culminating in a performance of Hey Ya with his back turned on the crowd. Here's hoping he gets his shit together come weekend two and matches the faultless energy of Big Boi.
Pharrell
The Man of the moment, Pharrell, put on a star-studded event being joined by the likes of Gwen Stefani, Diplo and Snoop Dogg. While his voice let up, the energy level never dropped as he rolled out hit after hit to a crowd unphased by the dust storm. As his voice drew its final note, he announced that next week he'd be back bigger and better. Well then Pharell, over to you...
HAIM
Haim are the quintessential LA band and so Coachella is the perfect festival for them. There's really no more to say apart from the fact their debut album is so damn accessible it's almost impossible for anyone to deny the ear candy coming right at you. On weekend one, Este told the crowd she wanted to hear the sound of ass claps- what more could you want in the Californian desert.
Girl Talk
It's a surreal experience watching Girl Talk in your bedroom at 4pm on a Friday afternoon with an uncontrollable feeling to dance. Gills is one of the only acts of the weekend who's energy translated through the YouTube stream. If you're in the mood for a booty shake, Greg Gills is the most consistent of performer. It's unlikely he'll let you down.
Chance The Rapper
At only 21, Chance is probably the biggest new name in rap music. His Coachella set was jam packed with tracks off his fantastic mixtape, Acid Tapes; perfect for a mid-afternoon grind. Last week he brought on Justin Bieber- luck or misfortune, you be the judge.
Arcade Fire
The Sunday headliner is always bound to be a classic but, wow, do they put on a sound. The added disco flavours of Reflektor sit nicely alongside the other three records. Also Blondie came out last week for a cover of Heart of Glass. I wonder if they can top his next week.
Solange
We're hoping an album is close to being finished but for the time being we're content with the fact that Solange was the queen of the desert last weekend. She brought on Beyonce at the end of her set for a dance-off but the moment belonged to the quirky sister. She had the crowd in a flurry of movement, particularly with her flagship song, Losing You.
Chromeo
The Canadian funksters had us dancing in front of YouTube on Friday night. They deliver such a high energy set and with new tracks from their forthcoming album, White Woman, to show-off they really took height. Jealous (I Ain't With It) was a particular stand-out working the crowd into a well-deserved sweat.