If you're looking for 2015's predictions, you're in the wrong place. Try here. 
Last year Fuzzy's Listen Out Festival took over smoothly from their previous event, Parklife. It toured around the country with a stellar line-up including Disclosure, AlunaGeorge, Classixx and an always interesting Azealia Banks. This year it's back again to showcase the latest in IDM (Intelligent Dance Music). The Line-up will be revealed tomorrow at 3pm but before, we've put together a bunch of names we think may be making the trip down-under.
EDIT: Sooo, looks like we only got 1/13 artists correct (and Zhu was already confirmed). Here's hoping these guys tour Australia soon:
ZHU
Faded has become the mainstream crossover hit of the year and it looks as if Listen Out has already booked American producer Zhu. Their video released last week, titled 'Dance', was sound tracked by Zhu giving some pretty strong proof that he's going to be on that line-up.
Chances: No doubt.
La Roux
We've waited five long years for her second album, Trouble In Paradise, so excuse us for feeling like a visit from La Roux is compulsory. It's likely she'll make an Australian visit soon. The question is whether Listen Out is the right festival to flash her new songs.
Chances: There's a suitable gap in her touring schedule for an Australian tour and she's played Fuzzy's previous festival, Parklife before.
Robyn & Royksopp
This Swedish trio would make dazzling headliners for the festival. They're busy in Europe this Summer but come Listen Out, it looks as if they're free. Their new mini-album, Do It Again, would provide a perfect soundtrack for this tightly-curated festival. When Triple J asked them about an Australian tour last month they said, "We hope so, we're planning for it".
Chances: If we had to put our bets on one act it would be these guys.
Basement Jaxx
Fuzzy have toured Basement Jaxx and their seventh album Junto is out in August. What better way to flaunt the new tunes than to come down-under and boogie with a Springtime Aussie crowd.
Chances: Where's your head at? Ours is saying yes.
MØ
Danish pop star, MØ, did a short jaunt around the country last year, however, she is yet to play it a festival crowd here. With her debut album, Mythologies To Follow, out, she could fill a Listen Out up and comer slot easily.
Chances: She has a show in New York on 25 September. A Valium, an overnight plane ride and she'll be right as rain to be play Sydney on 27 September.
Chromeo
2011 was the last time these American funksters were in the country so a return is imminent. Their new album, White Woman, is perhaps their most accessible yet and a night time slot at Listen Out would be a huge drawcard.
Chances: Their tour schedule has room for Listen Out but they told inthemix that it looks like they'll be returning "at the top of next year". Looks like Falls Festival or Big Day Out may have snapped them up already.
Bag Raiders
Bag Raiders have just released a new track, Nairobi, and have worked with Fuzzy previously. Judging from that track they'll bring their marimba and grass skirts to stir the crowd into a haze should hey find themselves on the line-up.
Chances: it's certainly not the most outlandish claim we've made.
Alison Wonderland
An Aussie success story is always necessary at a homegrown festival. Having just performed a sold-out bunch of warehouse shows, Wonderland is the success story Listen Out needs. Her new EP, I Want U is due this week and is likely to further swell adoration for this fast-rising dancefloor queen.
Chances: There's no reason why not.
Todd Terje
Whip out the coconuts, crack-open the Malibu, ladies and gentlemen, it's album time. This wacky Norwegian encompasses everything this festival is about, left-of-centre dance music to usher in the Spring months. His latest album is packed with jubilant, tropical vibes and he would no doubt stir some groovy dancing come September.
Chances: His touring schedule currently says "Yeah, I could do that". This would be perfect.
SAFIA
Canberra lads, SAFIA, are currently traipsing around the country on a sold-out tour, proving why they'd be a stellar book for Listen Out. The afternoon slot occupied by RUFUS last year is calling for a sunset sing-along to Listen To Blues, Listen To Soul. These guys are the local act most likely to appear on every festival bill this year a la Flume or Rufus.
Chances: Pencil it in.
Little Dragon
Maybe it's a long shot but Swedish band Little Dragon played Parklife in 2011 so Fuzzy must have their number saved in their phone. Their new album Nabbuma Rubberband is perhaps their strongest yet and would soundtrack the twilight hours of the main stage nicely. The only problem? They have a short Australian tour booked for August.
Chances: A long shot but we can't help but keep our fingers crossed.
Route 94
This British producer's move from dub-step to deep house was met with open arms this year with the Jess Glynne featuring, My Love. It's the kind of sound that dominated last year's Listen Out and would seemingly fit like a glove on the 2014 line-up.
Chances: It's possible. Route 94 would be a welcome international drawcard.
SBTRKT
He hasn't been here since early 2013, so surely we're due a return visit from the enigmatic British producer. He's just dropped a new track with Sampha and apparently has an album on the way so Listen Out would be the perfect opportunity to test out his new music down-under.
Chances: There's room in between a trip to the UK and Mexico. He'd be a strong player in the upper-echelons of the line-up.
EDIT: It ain't gonna happen 🙁
Dates:
Saturday, 27th September 2014
Centennial Park, Sydney
Sunday, 28th September 2014
Ozone Reserve, Perth
Saturday 4th October 2014
Observatory Precinct, Royal Botanic Gardens, Melbourne
Sunday 5th October 2014
The Avenues & Expo Place, Brisbane Showgrounds, Brisbane
Lana Del Rey is one of the most divisive figures in pop music. As she approaches the release of her second album, Ultraviolence, two of our writers took sides. One in defence of Lana and the other against. Yesterday, Sam wrote in defence of the singer. Today, Hannah writes in opposition to Lana Del Rey. Let the battles begin. 
Let's just start by saying I am someone never short of an opinion. Founded or otherwise, once I've settled on said opinion, I dig my heels firm into the ground on which I stand and should you have a hope in hell of changing said opinion, come armed with a hefty entourage of big ol' beefy men to drag me kicking and screaming from my stake on a patch of self assured, unnecessarily opinionated turf.
This is relevant only because sometime during 2011 I decided to hate Lana Del Rey. Or Lizzie Grant. Or Elizabeth Grant. Or whatever name she was choosing to use at that stage of her career.
Now, in anticipation of her second major-label album release, Ultraviolence, with google producing more than 98,900,000 search results in less than 0.25 seconds for those three little big-money-making words, Lana Del Rey, I thought it best to revisit exactly what it is about the boofy-hair-come-boofy-lipped beauty I just can't bring myself to endure. You know, for rebuttal's sake.
While a fair amount of hate is attributable to the fact that Born To Die alone has sold more than the combined efforts of Queen B's last two studio albums, it goes deeper. Sorry Beyonce.
Reading Ms Del Rey's interview with The Fader last week, it's impossible to ignore the first mention of any of her creative potential is not, as you would expect, regarding her languid vocals or her new, rock-focused direction but rather her synonymous video clips. "Lana Del Rey's filmography is a master class on how to build an icon," while said by Duncan Cooperin's reference to the "shaky clip of a teary 2013 performance, shot on a phone by a fan in Dublin," it does seem to echo a similar sentiment of Del Rey's own: "My songs are cinematic so they seem to reference a glamorous era or fetishize certain lifestyles." And one again found in Nitsuh Abebe's article for Pitchfork that notes rather despairingly, "In a sense, these great videos are oddly terrible at their job: Instead of selling you the music and showing you how it can feel, they actually hint at what the music lacks, the places it could go but has chosen not to."
Del Rey's music, image, videos, life, are so tightly tangled in one aesthetic, that there is simply no room to allow the viewer (should be/ would be listener) any truly unique or personal experience when engaging with her works. I'm hesitant to merely say "songs" because an overarching criticism is that just as Abebe suggests, her music is almost incomplete without an accompanying video clip. And, with her video clips more often than not forming literal representations of her already didactic lyrics, neither of them are anything without the sticky glue of Del Rey's public persona. As it goes, Lana is as Lana does. Which is great if, as an artist, all you are interested in is carving out a niche for yourself, but when that niche becomes so tightly defined and imbued with cultural references of a bygone era, for the audience, it's almost like falling down a very un-fun rabbit hole in which Del Rey's nostalgia-by-design becomes "a fantasy world that makes you long for reality."
The thing about Del Rey is that, yes, while her music is undeniably evocative, it is only evocative in a singular dimension that "relies on clichés ("God you're so handsome/ Take me to the Hamptons") rather than specific evocations." It is such an exacting formula for nostalgia that should you deviate or be unwilling to travel down the same sepia-toned pathway, filled with the icons of way-back-when Americana, her music loses a decent amount of poignancy. While I acknowledge songs like Video Games, use this nostalgia to comment on 21st century livin', if I can't share the memory, I can't learn from it. In this way her impeccably constructed image, coupled with her impeccably construct sound are, well... incredibly disengaging.
On that note, the constructed nature of Lana Del Rey's career, that often attracts criticism for lack of authenticity and calls for the real Lana to please stand up, are surprisingly not a part of this argument. "Fake it 'til you make it," has been a catch cry for masses of young, off-broadway hopefuls for generations now. Identity is fluid. It charges full steam ahead towards destination unknown, rarely touching the same stone twice, even for the most obdurate of personalities, of which Del Rey is not. To criticise the Del Rey today for not being the Lizzie Grant of the noughties, is no different from criticising the Miley Cyrus of today for not being the Hannah Montana of Disney fame. As a young woman on the cusp of adulthood, change is inevitable. Hell, even as an old woman on the cusp of menopause, change is inevitable. Change is ALWAYS inevitable. Were Lana Del Rey to do what Jon Caramanica suggests and wash that paint off her face and try again in a few years, she would be absolutely no better off, hounded by the exact same accusations of inauthenticity and falsehood.
What I will call bullshit on is that we, well you, her adoring fans, are supposed to take some solace from the too-well rehearsed party line, 'while you might not know who she is, have faith nonetheless, she doesn't know either.' Poor, poor, lost soul Lana. After all, as Del Rey so succinctly puts it, she's just "fucking around." Reinvention is vital to success in an era of minute-attention spans, but really, who's buying the just "fucking around" attitude? That, my friends is bullshit. That a woman can double Beyonce's record sales just by "fucking around" and we're supposed to lap it up, is quite frankly an insult. Alter egos, multiple personalities, stage presences, genuine experimentation, a new pair of shoes, a new "do," are all part of staying alive as the pop machine churns ever onwards, but have some integrity while you rip through your mothers dress-up draw. Change with intention. Change from the core. Change for personal growth. Change and damn well say you're changing. As it is, Caramanica hits the nail on the head in his New York times article, "People don't know what to do with this unformed thing they've been told they need to care about; crushing it is easy, almost humane."
Sitting here with my Mum, giving her a brief education on just who the enigma Lana Del Rey might be; her response? "She should just chuck it in, do away with her failed rendition of 60s screen siren sexuality and be a nice girl."
Here, here.
Read the companion piece to this: In Defence of Lana Del Rey.

Lana Del Rey is one of the most divisive figures in pop music. As she approaches the release of her second album, Ultraviolence, two of our writers took sides. One in defence of Lana and the other against. Today, Sam writes in defence of Lana Del Rey.
I'm usually the first to sigh at the mention of Lana Del Rey. As a personality, I found her hard to gravitate towards. Everything, from the way she speaks, to her unbearingly literal lyrics and her supposed falsities, grated on me and I found myself moving away from the singer I once applauded for the beautiful, Video Games.
It's not until I read her brilliant feature with The Fader last week, that I started to consider Lana Del Rey again. And understand her.
The Fader quipped "With Lana Del Rey, everybody's a critic, and any interpretation is possible," which is the very reason we found ourselves writing a feature for and against Lana Del Rey.
She's a hard personality to pin down, which I think is the root of all her criticisms. She's had different monikers, dated record-label execs and has a presumably rich, entrepreneurial Dad. None of these things bode well for her as a flower-wearing indie-kid who's now signed to a major record-label.
In 2012, when she began to creep up the pop charts with Video Games, people took great delight in revealing these things, thinking they'd caught her out. However, she's been more than open about such things. The Fader interview proved that. She openly admits she had a seven year relationship with a record executive and has a song on her new album about it (Fucked My Way To The Top). In 2011 she even told Pitchfork, "People have offered me opportunities in exchange for sleeping with them. But it's not 1952 anymore. Sleeping with the boss doesn't get you anywhere at all these days."
Everything Del Rey does seems to be taken as a PR stunt- the long videos, her hatred of Lady Gaga and her name-change. She's an impossible personality to digest on the surface. She seems fake, an opinion I also held. But if you invest the time in reading her backstory, some of her visual and audible contributions over the past few years make sense.
Herein lies the issue of Lana Del Rey. She was a self-made indie artist who suspiciously signed with two major labels very soon after the release of Video Games. I can admit, that is suspicious, however, the only issue with it would be if Del Rey appeared to be the product of label manufacturing. After reading her interviews, watching her videos, and listening to her sometimes grating lyrics, I can't see how anyone else is behind Lana other than Lana. As her friend Jamie King says, "The only person who created Lana Del Rey is her."
She's not the first artist to change her name and persona for a crack at the industry. Katy Perry was once known as Christian singer, Katy Hudson, yet she's not accused of inauthenticity half as much as Del Rey is. Bowie, Lady Gaga and Madonna have all also adopted stage personas over their own. Perhaps it's her ambition that creates criticism. In just over three years she's released a controversial album, played Jackie Kennedy in a video with a black president and starred in a self-directed short film, Tropico. The latter was reviewed by Speedy Orbitz member Sadie Dupuis, who said "a footnote of a PR stunt from a singer whose cinema chops are as wispy as her faux-retirement."
All this seems to be a product of Del Rey's apparent unsurety with who she actually is. Even without mentioning Lizzy Grant, Lana has been a myriad of characters. But I'm not sure they're really characters. It seems she's actually lived the life of many of them. Despite the fact she grew up with an entrepreneurial Dad, Del Rey spent time in a New-Jersey trailer-park.
She revealed to Nylon Magazine she feels connected to the biker culture, ""It's about living for the day, which was my mindset for a long time", she said. This identity is explored in the video for Ride. And yet she was critiqued for portraying a "prostitute" in a "stupefying video".
Lana's not a feminist, she details in The Fader interview. Yet she remarks, ""My idea of a true feminist is a woman who feels free enough to do whatever she wants." To me, that notion is portrayed eloquently in the Ride video.
Del Rey is an intriguing character because she's so unsure herself of who she is. She tells Fader, "I'm trying to do what feels right. I tried a lot of different ways of life, you know, things I never really talk about, just because they are kind of different. I didn't really have one fixed way that I could envision myself living."
The most appealing trait I've noticed in Del Rey over the past few years is the impeccable grace she's maintained during the storm of vicious criticism. After her Saturday Night Live appearance, Gawker called it the "worst outing in SNL history". Two weeks later, she performed a stunning rendition of Video Games on David Letterman. As they say, don't get angry, get even. This year she played Coachella with the LA Times calling it "a measure of redemption".
Ultraviolence could've easily been an immaculately-produced pop record that panders to radio but instead she's dropping one that willfully departs pop. It's a gritty, rock-driven record with provocative titles that are bound to anger people that already find her unbearable (Money Power Glory, Fucked My Way To The Top). She's either oblivious or she's learnt to not give a shit. I'm going to side with the latter. After over five million sales of her debut album, she's become unapologetic. And so she should be.
New York Times writer Jon Caramanica posted perhaps one of the most scathing reviews of Del Rey in 2012. He wrote, "Her cultural stamp has already been affixed, her biography written in concrete. The only real option is to wash off that face paint, muss up that hair and try again in a few years. There are so many more names out there for the choosing."
His comments about the fleeting nature of her success seem devoid now given that she's got a multi-million selling album, two platinum singles and over 100 million YouTube views. He did use a metaphor in that piece though, writing "one has to wear clothes for a long time before they fit well." If that's the case, Lana Del Rey has certainly grown into her assumed, fake persona. Everything we've heard off Ultraviolence so far sound bold and unphased by opinion.
Everybody's become obsessed with authenticity like a soul-searching X Factor judge, when the industry always has and always will be about entertainment. And god damn, Del Rey is entertaining.
Love or or hate her she's managed to penetrate the mainstream despite the barrage of criticism that suggested she'd never move past Video Games. She's also done so without the help of David Guetta, Pharrell or Max Martin which is a feat many can't claim.
Liz Phair said it best in her defence of Lana Del Rey when she wrote, "as a recording artist, I've been hated, I've been ridiculed, and conversely, hailed as the second coming. All that matters in the end is that I've been heard."
Tomorrow Hannah will reply with a critique of Lana Del Rey. 

Which famous DJ starred in their self-produced porn store sci-fi Christmas movie musical? Who was the English singer that flirted with Dr Karl on Neighbours? Read below for our top 10 surprising acting cameos by musicians.
Usher
Before he was proclaiming his confessions for the second time, Usher Raymond was the resident radio host / DJ in everyone's favourite '90s makeover teen rom com, 'She's All That'.
The next best thing to Rachael Leigh Cook taking off her glasses to reveal that "omg, the nerd is totally, like, pretty?" is watching Usher himself choreographing the school to dance to Fatboy Slim's Rockafeller Skank.
"Split like the red sea!"
Andre 3000
One half of OutKast, André Benjamin, had dabblings in acting preceding his portrayal of Jimi Hendrix in 2013 biopic 'All is by my Side'. He's featured in various movies and TV shows, including 'The Families', 'The Shield', 'Revolver', 'Semi-Pro', 'Four Brothers' and as the voice of Elwyn the crow in 'Charlotte's Web'.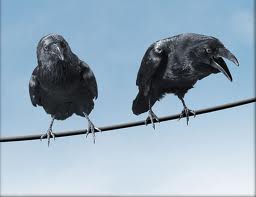 André as Elwyn (can not confirm if left or right crow).
His more notable role in his acting career was as Dabu in 'Be Cool'. For an entire 40 seconds of André's infectious laughter, see below.
Kanye West
Not even the self-proclaimed King of Everything could save Mike Myers' box office flop, 'The Love Guru'.
Who knew he loved hockey so much?
Michael Jackson
MJ made a brief appearance in 'Men in Black II', surprisingly not as an alien but instead as someone desperate for a position at the Men in Black Headquarters. I wonder if he'll make a comeback hologram appearance in 'Men in Black V'?
The highlight of this video is the fangirl's written commentary.
Moby
It seems that Moby has a fondness for erotic-themed movies, starring in 'Suck', 'Joes' Apartment' and as the character 'Dildo Head' in his self-produced porn store sci-fi Christmas movie musical, 'Moby Presents: Alien Sex Party'. Surprisingly, the latter's IMDb rating is a measly 4.2/10, with reports of Moby distancing himself from the production and even requesting to be edited out completely.
I'm going to leave it up to you to figure out which one is 'Dildo Head'.
Also worth a mention is 'The Limo' episode of How I Met Your Mother, where the gang mistake someone on the street to be Moby, pick him up in the Limo and head to his party. Upon 'Moby' ranting crazily and eventually threatening them with a gun, they realise he is in fact not Moby and hilarity ensues.
Alicia Keys
Before she was setting the world on fire, Alicia Keys had acting cameos in 'The Cosby Show', 'The Secret Life of Bees', 'Smokin' Aces' and as Scarlett Johansson's sassy friend, Lynette, in 'The Nanny Diaries'.
Backstreet Boys
One of the best TV cameos to date is the Backstreet Boys starring as a boy band-come-furry mammals(?) in 'Arthur'. The episode, 'It's only Rock n Roll', focuses on the boys' pending visit to Elwood City and Muffy's major, totally-relatable crush on Nick Carter.
Backstreet Boys did it wayyy before Chance the Rapper.
Full episode can be found here. Watch it. Your 12-year-old self with thank you for it.
Lily Allen
Starring as herself, and additionally flirting with Ramsay St resident 'DILF' Dr Karl, in 'Neighbours'.
King Avriel
Before she was a gender boundaries-pushing electro queen, 23-year-old King Avriel starred alongside Football Head Arnold as Timberly in the childhood classic 'Hey Arnold!'.
The resemblance is uncanny.
Watch 'Timberly Loves Arnold' for a full 10 minute blast from the past
Radiohead
Playing themselves in one of the most iconic South Park episodes of all time, 'Scott Tenorman Must Die', Radiohead scold Tenorman for being a 'crybaby' while he sobs into a bowl of chilli containing his parents' innards. After Thom Yorke's dance moves in 'Lotus Flower', you could almost call him a triple threat.
Poor Kid A.
Can you remember any great TV or movie cameos by a musician? Let me know below or feel free to tweet me: @bianca_interns
Last week, we took on A G Cook's latest track Beautiful in First Impressions. While Hannah compared it to Snozberries, Lizzie likened it to the Rugrats, noting that she wasn't "sold on the whole Hello Kitty sound". The cultural references were becoming a little overwhelming so I decided to pose myself the question, 'What the F**K is PC Music?'
Nintendo. Dance Dance Revolution. Korea. Siri. These are all things that come to mind when you hear the music coming out of new label PC Music. Spend a moment with PC Music's soundcloud and you'll be both intrigued and disgraced. The music coming out of the label sounds completely inhuman but at the same time acutely reminiscent of a generation built on smartphones that talk, nostalgia and EDM.
PC Music is run by London producer A G Cook who also releases music through the label. In an interview with Tank Magazine, Cook said, "The label's called PC Music, which alludes to how the computer is a really crucial tool, not just for making electronic music but for making amateur music that is also potentially very slick".
[soundcloud]https://soundcloud.com/pcmus/beautiful[/soundcloud]
It's an apt way of describing it. Nowadays very little difference can be heard between bedroom and studio producers. The meteoric success of Flume from a very early point in his career is testament to this. The music coming out of PC Music is so slick, it's being compared to candy in abundance. In a way, it's bubblegum music. So smoothed out and computer-driven that it's lost all imperfection. Where rock n' roll was born on impurities, PC Music's difference comes in its ability to sound criminally crisp.
Cook was born in 1990 and notes that he grew up using a computer at quite an advanced level. The music has both the clunkiness of Windows 98 and the effortless sheen of an Apple Mac.
A demonstration of modern technology, all the press shots for PC Music's artists are just as devoid of humanity as the music. An artist like Hannah Diamond (below), for example, looks as if she has nothing behind the eyes. The picture's personality is simply delivered through bright, childlike colours and its likeness to childhood cartoon characters.
Apart from creator A G Cook, one of the most notable artists on the label is the aforementioned Hannah Diamond. Her songs redefine the meaning of minimal. They're like deconstructed Top 40 tracks that have been redone out of mockery. Her voice is like a slightly more natural Siri. In normal circumstances, these things would be criticisms. But they're not. It seems Diamond sits so far to the left on the kitsch spectrum, that there's a stroke of genius in how otherworldly it sounds.
Her track Attachment has her singing "Together, forever" like a children's doll. Creepy, yes. Infectious, yes. There's a deep sense of '90s nostalgia that makes it oddly irresistible. Top 40 Pop music is a guilty pleasure but it's fairly simple to explain why. Attachment is also a guilty pleasure, however, it's close to impossible to describe why. On Soundcloud one user comments, "Why do I like this" while another says "this is wackkkkk". She's also compared to "an illiterate preschooler".
[soundcloud]https://soundcloud.com/pcmus/attachment[/soundcloud]
FACTmag described it best when they wrote she's "like the girls at your school who practised Spice Girls dance routines in the playground and smoked fags on school trips, but while her brittle, Estuary tones make her sound like a Smash Hits star from the late '90s, her songs couldn't be more 21st century".
A G Cook told Tank Magazine, "My work's constant use of instantly gratifying elements such as kitsch imagery, catchy hooks, synthetic colours and fun sound effects feels inevitable, it's almost a compulsion rather than a choice." The idea of compulsion rather than choice is one that defines most of the labels sound. Much of the music sounds like it's giving into seven deadly sins. It's particularly a result of gluttony in the way that it over-indulges in pop's melodic demons and lustful in the way that it centres mostly round the theme of 21st century love.
Consumerism is a notion that PC Music introduces a number of times. On Lipgloss Twins' Wannabe, a computerised voice repeats "Topman, topshop", "fake Prada, fake Louis, fake Zara" and then "I don't wanna be a twin". It's the first time PC Music has eluded to a criticism of 21st Century culture. Cook said "Challenging something's commercial nature is a commercial tactic in itself, and authenticity is a tricky currency that is often swayed by branding and advertising."
[soundcloud]https://soundcloud.com/pcmus/wannabe[/soundcloud]
It's entirely possible that the musicians on PC Music aren't purposely critiquing our culture. There's an enigmatic nature to the label that makes it easy to overanalyse without having a specific voice to speak for the music. In an industry where everyone's trying to keep it 'real', it's ironically refreshing to have a label embracing some of the critiques of this generation.
While I've tried to answer the question of 'what is PC Music?', I fear i've only further confused myself. Such is the intrigue of the label. The best way to discover it, is to listen to it. On first attempt, you'll most likely hate but like a sugar-addiction it will grow on you. Before you know it, you'll be asking "Please sir, can I have some more?"
[soundcloud]https://soundcloud.com/pcmus/sets/top-40[/soundcloud]
It's time to talk business. Last Thursday, Dr Dre officially became is the first billionaire in hip hop, acquiring a cool $3 billion ($2.6 in cash, $400 million in stock….but who's counting) in one of the most mouthwatering deals of the decade. While the rumours mounted that Apple Inc. were going to pull the plug on this trademark deal with Beats Electronics after that Facebook video announcement (Money + Rapper ? Intelligence), things seem to be all rich and rosy between the two megabrands.
The first billionaire in hip-hop, right here from the motherf**king West Coast."
But wait- the music. Where is the music in all of this? While many musicians are happy to settle with their music, their fans, their millions and their countless rehab stints, others have taken it upon themselves to trade their musical notes, for well, just notes, making their money elsewhere. Damn talented people, I probably should have really listened more in my Business 1001 classes.
Riding the wave of their multi-million dollar endorsement deals, clothing lines, book deals, restaurants, movies, and even perfumes (I mean who can resist the scent of Eau de Katy Perry) - the new millennium has seen an influx of talented musicians, or notably hip-hop moguls, trading their brand on the stock market in places you wouldn't even imagine.
Here are a cashed up hip-hop artists who have acquired all them dollar bills in the most unlikely of places.
Dr Dre
Consumerist Teenager: Dr Dr, I am having a problem hearing my music!
Dr Dre: An Apple (Inc.) a day keeps the doctor away!
How about $3 billion of dem Apples! That's right, Dr Dre and his business partner Jimmy Iovine have finally done it – they are hip-hop's first billionaires, signing a deal even grand in Apple's standards. Described as a "no brainer" by Apple Chief Exec Timothy Cook, the acquisition of Beats Electronics is in fact Apple's largest purchase to date, with the Beats' subscription-based music streaming service as its main selling point.
"We've known these guys forever," Cook added, "We've dated, we've gone steady and now we're getting married." Sorry Kanye and Kimmy, this may actually be the biggest wedding in hip-hop history. Dr Dre and Iovine have not only made headphones cool again since they started the company in 2008, but they entered into an overpriced market that only the big boys at Apple can afford. Well played, very well played.
50 Cent
It's hard to think that a hip-hip, dirty lyric, rapper named Curtis '50 Cent" Jackson, would go from selling 15 million records and being shot 9 times, to being one of the richest big boys in the music beverage industry. Huh? That's right. Jackson's beverage company Glaceau was the creator and marketer for "Formula 50", a brand of Vitamin Water which Coca-Cola purchased in 2007 for a tidy $100million. How refreshing!
Half a decade later, 50 has launched his Street King Energy shot, and it's already moved to number two slot in its ($2 billion) market. Just to add to his G-unit clothing company, not to mention the deal made with Reebok in 2003, his own record label, G-Unit Records and monies earned from his dabbles in acting and authoring. Hand this guy an Oscar already!
Sadly, money does not buy coordination….
Jay (remove the hyphen) Z
Jay-z sings it perfectly in Kanye West's song "Diamonds From Sierra Leone": "I'm not a businessman, I am a business, man!"
With an estimated net worth of $475million in 2013, Brooklyn born Jigga is not only a master of music, but a myriad of businesses as well. He is a hip-hop god, a fashion exec to his own Rocawear clothing label as well as an entertainment mogul, earning double digit millions from his concerts and Roc a Fella label, and new sports news agency launched just last year. Although this hustler doesn't fully own any alcohol brand, he is associated with a number of top alcohol brands in the market, including Ace of Spades and D'Ussé cognac,
If that isn't success, then he's always got Beyoncé's measly $300 million empire to fall back on (sigh).
P-Diddy
Up until May this year, Sean "Diddy" Combs held the crown as the richest rapper in the world. Although he may have lost the illustrious title to Dr Dre, I'm sure he won't be going hungry tonight with a staggering net worth of $700 million. A cool $120 million more than 2013, thanks to his deal with beverage giant Diageo and his burgeoning Revolt TV music channel.
While on stage we have seen him change his name from "Puff Daddy", to "P.Diddy" to just "Diddy", lately, this entrepreneur has adopted the moniker "Ciroc Obama" (his words, not mine). As Ciroc Vodka's value soars toward $1 billion, this entitles him to an eight-figure annual payout and a nine-figure windfall if the brand is ever sold, cementing himself on the cover of Forbes' 400 lists alongside Warren Buffet as one of hip-hop's next billionaires.
This guy has so much (non-music) money he really doesn't give any fucks if he loses a mil or two!
I OWE YOU: Diddy scrawled out an IOU for $1 million dollars after losing a "shooting dice" bet with Rick Ross. He aptly captioned the video "I just lost a million dollars. It ain't nothing #SuckMyD**kB***h
Bryan "Birdman" Williams
For everyone who is thinking, who the [email protected]#k is this guy? You are not alone. This New Orleans-born rapper/producer-turned-entrepreneur was the co-founder of musical powerhouse Cash Money Records, with his brother Ronald "Slim" Williams over two decades ago. Starting to ring a bell? Cash Money Records inked a $30 million distribution deal with Universal in 1998, catapulting it to success, signing rappers such a Drake, Nicki Minaj and Lil Wayne. With a net worth of $160 million ($300 together with his brother), Birdman placed himself securely in the Top 5 of this year's Forbes "Hip-Hop Cash Kings". Now, Birdman and Slim seem intent on taking over the world building a new branch of their business Cash Money Sports in May 2014, signing Texan American Footballer Mike Evans to the agency.
Congratulations, you've nearly made it to the long weekend! Since you made it this far, we thought we'd give you a li'l somethin' somethin' (ie: free stuff) to celebrate.
LISTEN: How To Dress Well- No Words To Say Mix
How To Dress Well, aka. Tom Krell, is a sensitive man, as he's proved on his latest tracks Repeat Pleasure and Words I Don't Remember. This mix is made up of songs that inspired his forthcoming album, What Is This Heart? and it's just a tad melancholic. All you probably need to know to get you interested is that it starts with Tracey Chapman. If that's not enough, it also features unreleased sneak previews of his new album.
[soundcloud]https://soundcloud.com/howtodresswell/no-words-to-say-songs-for-what-is-this-heart[/soundcloud]
STREAM: Glass Animals, Jack White, First Aid Kit
Do release dates not mean anything anymore? New albums from Jack White, First Aid Kit and Glass Animals have all been made available to stream ahead of their release. Naturally, they're all very different. Swedish duo First Aid Kit offer up a nuanced, Americana sound on their third release, Stay Gold, while Jack White does, well, what he always does on his second solo LP Lazaretto. British band Glass Animals are the newest of the bunch. ZABA is their RnB-inspired debut and features Triple J favourite, Goeey.
Stream Jack White- Lazaretto here.
Stream First Aid Kit- Stay Gold here.
Stream Glass Animals- ZABA here.
READ: Glass Animals go through their debut album, ZABA
Dave Bayley's lyrics are often hard to work-out in Glass Animals tracks. So, if you're listening along to the stream and need someone to gently guide you through it track-by-track, Bayley is at your call. He's spoken to The Quietus a little bit about the meaning and process of each of ZABA's tracks. And yes, he says things like "I recorded the vocal while holding a pineapple called Sasha Fierce".
LISTEN: Drake- 0 to 100/The Catch Up
Everyone loves to hate Degrassi Drake but when the man gets it right, he gets it soooo right. This new one, dropped for no rhyme or reason, splits itself into two. O to 100 is brash and confident while The Catch Up lends itself more to the melancholic production of a cut like Furthest Thing. It's rumoured to feature James Blake at the end and it sure does sound like it. There's also an album meant to be due in 2015 but until then grab this freebie.
[soundcloud]https://soundcloud.com/octobersveryown/drake-0-to-100[/soundcloud]
LISTEN: R.Kelly- Ignition (Giraffage Remix)
Now, usually he don't do this but San Francisco producer Giraffage has just been signed to Fool's Gold records. To celebrate, he's fulfilled every kid born in the 90s dream and dropped a remix of R.Kelly's, Ignition. And presumably in some tip of the hat to 1999 Napster, he's made it completely free. The producer finds himself in good company at Fool's Gold. The label is home to names like Chromeo, Run The Jewels and RL Grime.
[soundcloud]https://soundcloud.com/foolsgoldrecs/ignition-remix-giraffage-remix[/soundcloud]
Until next week.
Sometimes there's only so much words can express. With the help of everyone's favourite app (sorry Android users), I've used Apple Emojis to tell the story of Sheezus and her monthly periods.
Also, listen to Lily Allen's self-proclaimed "unofficial worldcup song" Bass Like Home.
[soundcloud]https://soundcloud.com/fletchscult/lily-allen-bass-like-home[/soundcloud]
the interns are thrilled to announce that we are now officially part of the VICE Blogging Network.
It's a collection of independent Australasian websites which are, in VICE's opinion, 'the most interesting, relevant and popular ones going' and we're so excited to be included in such a well-respected realm of music, art and culture. 
On this month, ten years ago, it's likely that you were anticipating Las-Vegas band The Killers' debut record, Hot Fuss. With four albums to their name now and a greatest hits, The Killers have engrained themselves as a band that never quite made it as big as Coldplay or The Strokes but have happily plodded along as a sometimes-headliner.
On 7 June 2004, when Hot Fuss was released it was looking like The Killers were destined for giddy heights. The album went number one in Australia (such trendsetters), Ireland and the UK while it also reached the top ten in the US. At the end of the decade, the LP was the 27th and 97th highest selling album in the UK and Australia respectively.
The Singles also performed well. Mr. Brightside reached the top ten in the US and the UK while Somebody Told Me mustered a peak of number three in the UK.
Few new bands that were born around the time The Killers surfaced managed that feat with their debut. Indie-rockers turned stadium-fillers, Kings of Leon and the Black Keys, started with critically acclaimed albums but ultimately it took them the better part of a decade to turn that into commercial success. Even if it was at the cost of critical adoration.
The perfect combination of alt.rock and stadium-ready tunes
At the time of Hot Fuss' release there was no other band, apart from perhaps Coldplay and an ageing U2, that presented alternative rock in such a straight-forward, digestible manner. Lead singer Brandon Flowers marks it best in Glamorous Indie Rock N Roll, when he preaches "It's indie rock n roll for me/It's all I need". Hot Fuss was certainly not the most indie record of the time. Far from it. But it exposed 'the rebel' inside all of those who didn't want to delve into garage-rock to reveal it.
Lamenting on Glamorous Indie Rock N Roll, NME wrote "The Killers' charm is to be both clever and clueless at once". And to this day, that is still true of Hot Fuss. They probably knew that proclaiming they love indie rock was somewhat cringeworthy but it works because Flowers' delivery is so self-assured. Personally, as a twelve year-old kid there was a certain feeling about holding The Killers' record and believing I'd uncovered a band that was just a tad alternative.
On paper, The Killers sounded ridiculous. They were a band from Las Vegas who sung a lyric like "somebody told me that you had a boyfriend who looked like a girlfriend", and delivered decadent, Moulin-Rouge style videos. There was nothing gritty to this indie rock n' roll. It was clean; formulaic even. But it was also perfectly delivered and believable because Flowers and co were so convincing in their delivery of such grandiosity.
In labelling Mr. Brightside the 72nd best song of the '00s, Pitchfork wrote "Merging Duran Duran makeup, New Order hi-hats, and Bruce Springsteen-ian grandiosity, they gave rock fans a non-geriatric arena-ready alternative to the world's Nickelbacks". A year later, PANIC! At The Disco would release their first album, A Fever You Can't Sweat Out, borrowing a similar, if not more emo-enhanced formula. Even now, bands are still using that well-balanced combination of alternative rock and stadium-ready flashiness. Has anyone seen Kings of Leon, Arctic Monkeys or Muse live recently?
The British influence
In 2009, Brandon Flowers told Spin that "Hot Fuss was all based on fantasy. The English influences, the makeup — they were what I imagined rock was. I'm a dreamer, you know? So I dug into that dream and made Hot Fuss." It comes as a defence to critics saying the album held no sense of identity. Pitchfork wrote in their 5.2 review of the album, "The Killers are just the latest band to be born too quick inside the popular music vacuum, where expectations for broad accessibility kill dudes' potential for deeper creativity quite fabulously dead."
In 2004, the Brits dictated alternative rock, so it made sense that the Killers would follow this formula. However, it left little room for them to inject their hometown and own influences into it. Listening back to Hot Fuss, it's hard to say that it sounds specifically British. So many bands from around the world have adopted the Brits' alternative style of rock that it sounds universal now more than anything.
In an interview with The Quietus, after the release of their third album Day & Night, Flowers admitted the rock n roll fantasy had become "unhealthy". He said, "I think we still can be the biggest band in the world. But maybe we were falling into traps - getting the producers and photographers U2 had. That's unhealthy."
Hot Fuss, iconic?
In the interview with Spin, Flowers also notes that Hot Fuss was "a very special part of this generation." And it's true. It would be hard for anyone to deny hearing All These Things That I've Done and not singing along. As Vice writer, Clive Martin puts it "I've got soul but I'm not a soldier" was the "I guess that cunt gettin' eaten" chorus for the cool clubs."
As I listen back to the album many of the lyrics sound iconic if not slightly over-heard. Lines like "Coming out of my cage and I've been doing just fine" or "It's not confidential, I've got potential" are instantly nostalgic. They're aggressive and well-timed, perfect for both the clubs and stadiums. They also induce some serious nostalgia which is a good tell-tale that the album was a signpost of the time.
When Mr. Brightside was voted in as the fifth best song of NME's lifetime, drummer Ronnie Vanucci said "The song is basically about one being totally content and fearless and happy, and then having it totally be the antithesis in a blink of an eye - all of the sudden being the opposite of that because of someone". Basically, it's the topic of just about every pop song but delivered differently. Instead of a Scott Storch, Max Martin or Timbaland production it was partly-distorted and centred around a delicious guitar lick. The drum-beat is rollicking and Flowers vocals are commanding in a conversation, train-of-thought way.
It's withstood any song from Hot Fuss and has become The Killers' signature track. Ten years later, it sounds unaged. Radio still plays it, clubs still play it and every man and his dog knows it started out with a kiss.
Even Smile Like You Mean It sounds instantly comforting when hearing it ten years later. As does the theatrical, desperation of Believe Me Natalie.
The Strokes achieved a similar feat with Is This It?, particularly in regards to Last Night. They disguised a beautifully simple, pop melody under waves of distortion and noisy guitars. Yes, the Strokes record was more successful but it's easy to see how and why the Killers were inspired by this. Flowers even told NME, "Is This It...just sounded so perfect. I got so depressed after that, we threw away everything and the only song that made the cut and remained was 'Mr. Brightside'."
The Verdict ten years on
Rolling Stones put it best when they wrote, "So what if they were from Vegas, not the U.K., and the year was 2004, not 1983?" Hot Fuss is a guilty pleasure record in every sense. It's a big, boastful record that touches on matters of relationships, sex, bitterness and falsity. Or as Vice puts it: a record about a murderous homosexual relationship.
Hot Fuss didn't have the gritty, indie aura that the first records by Kings Of Leon or The Black Keys did. The Killers were introduced with a flurry of glitz and glamour that lends itself more to Duran Duran than it did the bands of their own era. As such, they were able to permeate a pop/rock landscape that was dominated by the likes of Maroon 5, Nickelback and Jet.
When hearing those three bands it's hard to argue that The Killers are not the more likeable alternative. Even their harshest critics would surely have to agree.
It's difficult to call Hot Fuss a classic in the way that The Strokes Is This It? or Oasis' Definitely, Maybe are regarded but it's a key post-it note in the musical timeline of the '00s. It was a time when alternative rock became glamorous and digestible once again; made for huge audiences. It's worth noting that the year after Hot Fuss, Coldplay became a fully-fledged arena-rock band with their synth-heavy X&Y. A sound not dissimilar to the foundations of Hot Fuss.
Hot Fuss was an integral part of the transition period that got us to the point where Arcade Fire and The Black Keys could headline festivals.
The positive of Hot Fuss not being Is This It? is that The Killers have not been burdened in the way The Strokes have. In different ways, Sam's Town and Day & Age have matched Hot Fuss whereas The Strokes other albums have paled in comparison. They are not as instantly recognisable, but each of them have tracks that make worthy additions to their 'Greatest Hits'. It's helped their career track-along in a straight line rather than plummet like The Strokes.
©2017 THE INTERNS MUSIC, ALL RIGHTS RESERVED.