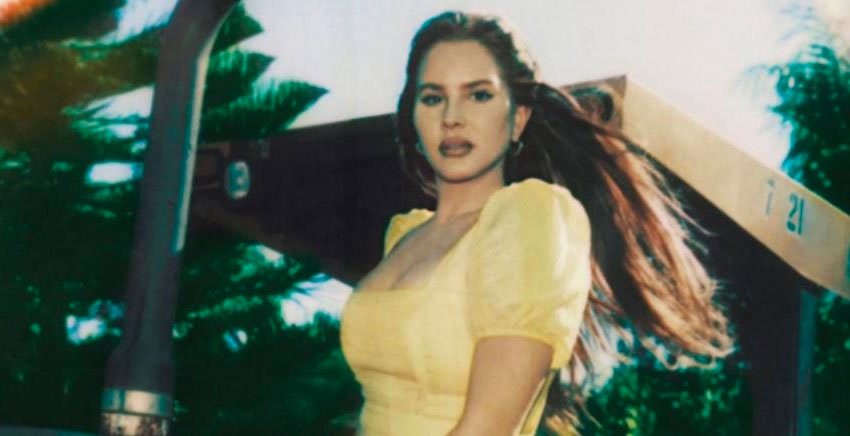 Lana Del Rey has often promised to deliver two albums in one year but for the first time, she's delivered. Blue Banisters follows Chemtrails Over The Country Club and has some notable differences. The glaring one is that Jack Antonoff, producer of Chemtrails and Norman Fucking Rockwell is absent, replaced by the likes of Drew Erickson, Mike Dean, Rick Nowles, and more. As a result, Del Rey is traversing sounds faster than she has on an album since Lust For Life and it's thrilling.
Not all of Blue Banisters is new. The latter part of the album is made up of tracks that date back to 2013 while she was writing for Ultraviolence with her boyfriend at the time Barrie-James O'Neil. Some of the others were written with Alex Turner and Miles Kane of The Last Shadow Puppets while many of them were freshly penned during the pandemic. "I guess you could say this album is about what it was like, what happened, and what it's like now," she said announcing the album and by opening up her collection she does exactly that.
Where Chemtrails was an album on the run, traversing America, Blue Banisters deals with shit. It's angry, sensitive, sensual, and humorous. She talks about her strained relationship with her mother, troublesome relationships with exes, and her current peace of mind. It's largely a collection of ballads but she really goes for it vocally shrieking at the end of Black Bathing Suit and yelling through the chorus of Dealer. To the casual Del Rey fan, it's just another Lana album but to the fans, this is surely going to resonate as one of her most impactful works.
The Good Ones
Blue Banisters
The title track is integral to the narrative of the album. It quite literally paints the picture of a breakup with all of her friends attempting to pick up the pieces. The banisters continue to change colors throughout the song as she reckons with the end of the relationship and her own happiness. On Chemtrails, there was a real emphasis on friendship but that theme comes through even stronger her. One of her most affecting ballads with some stunning vocals in the chorus.
Black Bathing Suit
Black Bathing Suit somehow manages to synthesise the sound of Del Rey's whole career into one song. It has the darkness of Ultraviolence, the bad girl aesthetic of Born To Die, the vulnerability of Norman Fucking Rockwell, and the doo-wop of Hollywood (Sorry Chemtrails and Lust For Life, you're in there somewhere too). The pre-chorus of this is a triumph with Del Rey pulling off some lyrics that only she could give glory to like, "I wish you could see to my soul through this black bathing suit." Her vocals at the end are truly unhinged too, taking this to an emotional boiling point.
If You Lie Down Next To Me
Del Rey has a way of making her ballads sound like American standards that have been around for generations. If You Like Down Next To Me is the Let Me Love You Like A Woman off the album but with a far gutsier vocal performance. Del Rey clings onto the end of a relationship with a song that's both tragic and romantic.
Thunder
Del Rey's past two albums have missed that Hollywood grandeur of her previous efforts but it returns on Thunder. It's a sprawling, vintage ballad with one of the fullest Del Rey productions we've heard in a minute. "You act like fucking Mr. Brightside when you're with all your friends," is one of her best take-downs and a perfect quip for the moody backdrop that follows.
Sweet Carolina
Del Rey album closers often have you thinking she's singing her swan song but Sweet Carolina is an outlier. It's a hopeful, beautiful piece written with her Dad and Sister. It's a waltzing, crisp piece that Del Rey brings down from heaven with some truly excellent lines like, "Fuck you Kevin."
The Skips
Wildflower Wildfire
The weakest of the three initial drops, Wildflower Wildfire never quite finds its momentum. It's a poignant piece lyrically but the melody feels truncated and that's not helped by the disintegrating Mike Dean beats that come in at the tail-end.
Cherry Blossom
There's really nothing wrong with Cherry Blossom, it just doesn't really need to be here. It's a sweet, simple ballad with some heady Del Rey vocals but it's glacial pace makes it hard to really sink into 14-tracks into the album.
Interlude - The Trio
An absolutely chaotic inclusion. To have a trap beat, mariachi interlude on an album full of piano ballads is a move that only Del Rey would give the OK too. We'll skip it but we're not suggesting it's taken off the album. We live for Del Rey's impulsiveness.
All-In-All
Blue Banisters hits you more immediately than Chemtrails. It has much more of the candidness that made NFR so successful and that makes it instantly likable. It's a vivid and largely unveiled look into her life that tackles the criticism about her authenticity head-on. What strikes you most about Blue Banisters straight-up though is her openness to risk-taking. Vocally, she's taking on everything, giving us pockets that we never even knew she had. Lyrically, she's also landing some lines that would be on the nose at the hands of anyone else ("He power washes everytime things go wrong"). It's so good that you can't help wonder whether it would've had even more impact if Chemtrails never existed at all.
8.5/10