To many, Pokemon dominated much of their childhood. From the TV to the gameboy to trading cards, it was pretty hard to escape the loveable creatures and their carers/battlers Ash, Brock and Misty. Of course, it was all about Pikachu but then there was Bulbasaur, Squirtle and the dark-horse of the bunch (the best), Jigglypuff. Jigglypuff herself was a fan of a bit of a psychedelic tune, years before she knew that Pokemon and the wider anime genre would be influencing music.
We touched on this recently in a series on Japanese music we wrote for THUMP and today we continue to look at the influence of Japan and anime on electronic music by looking at eight songs that could've soundtracked the video game or the show. Grab your Pokeballs (iPods), 'cos you gotta catch em' all.
Ryan Hemsworth- Cream Soda
Canadian producer, Hemsworth is the ultimate Pokemon fan. He has a collection of Pokemon cuddly toys and makes Pikachu a regular feature of his Instagram. It makes sense then that his music has a distinctly Japanese feel to it. Cream Soda sounds like Ash and Pikachu catching Pokemon together in happier times, when Pikachu was at full force and escapading around lush grasses. The song's starry synths, while feeling content, sound like they're fully aware that there is something around the corner.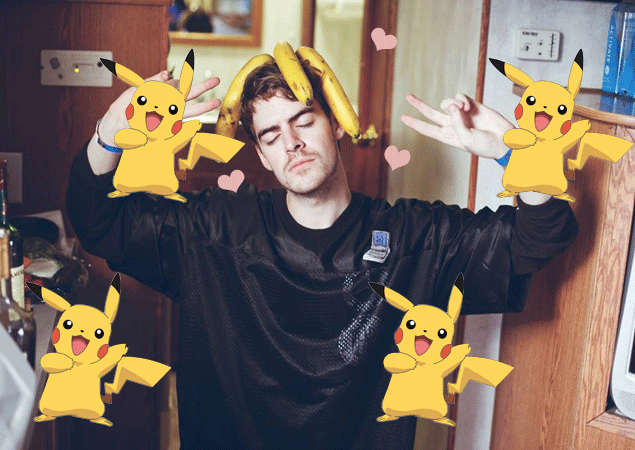 [soundcloud width="750″ height="200″]https://soundcloud.com/ryanhemsworth/cream-soda-with-tomggg[/soundcloud]
Macross x Yung Bae- Selfish High Heels
The Pokemon theme song was a rock-ballad of mighty proportions. Sounding like a combination of Journey and Foreigner it was one of the most inspiring tunes of the '90s. Portland producer, Yung Bae retains that aesthetic, combining American film influences with Japanese anime to deliver a '90s-inspired disco ballad. The song is funky, cartoonish and full of big, bold vocals just like the Pokemon theme song. It may sound like an odd combination but it's one that reflects the popular mesh between American and Japanese styles in electronic music.
xxxy- Clocks
Just like Jigglypuff's sleep-inducing concert, this track by British producer xxxy has hypnotic qualities. Its synths swirl and sparkle over top a throbbing beat that never quite climaxes. As such, the song circles around your head in a calming but ultimately destructive manner. Visually, it induces that sfumato style of anime where the lines between reality and dreams are slightly blurred as a town is taken over by the ultimate diva, Jigglypuff.
[soundcloud width="750″ height="200″]https://soundcloud.com/xxxy/clocks[/soundcloud]
Tomggg- Hello, Goodbye
Tomggg is a Japanese producer and thus from Pokemon's birthplace so it makes sense that he would be channeling some serious Pokevibes. This track takes The Beatles' Hello Goodbye out of perfectly constructed pop-rock territory and into an 8-bit video game world. Imagine this as the feeling you get after just beating the ultimate Mewtew. The chopped and screwed vocals create musical rainbows with the tempo-raising beat creating a triumphant feel. You finally did it Pika, you finally did it.
[soundcloud width="750″ height="200″]https://soundcloud.com/tomggg/hello-goodbye[/soundcloud]
Pas Lam System- Like A Lady
Pas Lam System is another Japanese producer who is making trap-influenced, battle-ready music. At times it's anxious, full of plastic beats and dense, starry synths while at other times it freezes in time, suspended by lengthened notes. Watch this over any Pokemon battle scene and you'll understand why Like A Lady is an important addition for any Pokemon-soundalike collector. Also, speaking of battle, can we take a moment to remember Team Rocket and their pesky cat, Meowth? As far as villains go, they are one of the most memorable girl-boy-cat combos. The high-paced flighty nature of this song says one thing, "Team Rocket blastttinnnggg offff againnnnnnnn".
[soundcloud width="750″ height="200″]https://soundcloud.com/paslamsystem/pas-lam-system-like-a-lady[/soundcloud]
DJ Sad Anime- I Love You, So I Want To Kill You
DJ Sad Anime, as the name would suggest, is creating music that is born in a hyper-real world of anime and cartoons. This mix, I Love You, So I Want To Kill You basically typifies the underlying relationship between Ash and Pikachu. In every episode, Pikachu was in grave danger during battle with some of the Pokeworld heavyweights and if you can imagine putting your dog to battle like that every day/week, it would have been horrifying for Ash. Musically, this mix captures that feeling. The kawaii cuteness of Pikachu is recreated through high-pitched vocals while the possible-death is captured by atmospheric, slow-motion beats.
[soundcloud width="750″ height="200″]https://soundcloud.com/lolilolipopthatbody/ilu[/soundcloud]
GRISFX- It's Not Right To Battle Pokemon That Way
So horrifying was it for Ash to send Pikachu to battle that Brocky finally realised that it's not right to force Pokemon to battle. Belgium-producer, GRISFX, captures this moment perfectly, sampling the narrative from the first Pokemon movie and laying it over a dark, string-driven instrumental that actually tugs at the heartstrings. Of course, the show continued to force Pokemon to battle because, without it, the franchise was at a loss.
[soundcloud width="750″ height="200″]https://soundcloud.com/musicgrey/its-not-right-to-force-pokemon-to-battle-this-way[/soundcloud]
Porter Robinson- Fellow Feeling
One of the saddest moments of TV was watching Sally leave Home and Away, but the second saddest moment is when Ash momentarily farewelled Pikachu so that he could be with his own kind. That was soundtracked by the song Pikachu's Goodbye and while it is extremely affecting, I can't help but feel this Porter song would've been a better fit. Tear-inducing strings, tick. Layered instruments, tick. A dub-step-inspired breakdown, tick. Maybe the last one is unnecessary but Porter is clearly in tune with the hyper sadness that Japanese anime brings and this track is about as heart-wrenchingly epic as they come.
[soundcloud width="750″ height="200″]https://soundcloud.com/oneangryfatman-1/porter-robinson-fellow-feeling-new-album-worlds[/soundcloud]