With Easter holidays fast approaching and a substantial amount of music heads jetting off to the U S of A to partake in Coachella frivolities, we, the(in)terns, anticipate long plane, train and automobile rides ahead for many of our readers. Accordingly, we've taken it upon ourselves to help you construct the ultimate playlist to accompany the long hauls and sleepless journeys. Here are 8 songs that need to be included on all travel playlists.
The 'Parting is Such Sweet Sorrow' Song
Maybe it's your family, maybe it's your cat, maybe it's your bed and favorite granola. Whatever the case may be, one thing assured by all travel plans is that you will inevitably be leaving someone or something you love at home. Pack your bags, put them at the front door, do a couple of last minute checks (do a couple more) and pause for a moment to remember all the good you have to come back to.
The 'Lets Get This Party Started' Song
Enough of that. Lets blow this joint!
The 'Everyone Knows the Words to This Bad Boy' Song
Because, Beyonce.
The 'Where the snacks at' Song
No matter how long the journey, snacks are a must. There's something strangely hopeful about catching that first whiff of a sweet, sweet sugary snack or hearing the first crunch of a salt and vinegar chip, distant on the backseat. Snacks promise a fulfilment on what can often seem like a never ending road or long haul flight… That is until the sugar high crashes and all hope is lost.
The 'I Never EVER want to Hear This Again' Song
In years to come, when this song finds its way onto mix 106.5, and it's library of great classic hits, you'll be driving your kids down the dusty road to suburbia and its promise of yet another game of soccer, football, netball, <insert cursed extra curricular activity here>, when suddenly you'll be thrust back in time to a trip you took one Easter break with your BFFs – wait, where are they now? – and reminded of your wayward youth and that time you lived off salt and vinegar chips for 16 hours. This will be your Easter anthem.
The 'White Noise' Song
Unlike the bombastic nature of songs 2 through 5, consider this song a bit of a ninja. It'll sneak in, anonymously fill the cracks of excited conversation with an innocuous hum and without you knowing, soon form the backing track to your journey.
The 'I'm Going to Take This Opportunity to Contemplate Life, the Universe and Everything' Song
While road trips lend themselves to countless rounds of eye spy and fun games of who can remain sane the longest, they also lend themselves nicely to sitting back and indulging in a little bit of "me" time. This is a song to break out about midway through your journey; that place happily located somewhere between the initial excitement of embarkation and the frustration that inevitably creeps in when you realise it's been a solid two hours since you last felt your ass. *Stares dreamily off into the distance*
The 'Maybe if I Go to Sleep, We'll Get There Faster' Song
Born from pure boredom-come-frustration, this track is pure tactic. Put it in on, fall asleep and, just like your own personal time machine to utopia, wake up somewhere free of cramps and the smell of unwashed armpits.
The 'OMG There's Only Half an Hour Left Until I Can Stand Up and Do Something About the Pins and Needles in My Ass' Song
This one is all about anticipation, baby! YOU'RE ALMOST THERE! Almost time to shake ya booty.
Side note: Premature booty shaking should occur in a manner conscious of all safety restraints, road rules, and/ or the person you've been fighting over the armrest with since before the dawn of time.
It's that time of year again. The rumour mill surrounding Splendour In The Grass is running in overdrive and while some acts have confirmed that they will make the trip, many are still just possibilities. Never ones to back away from a guessing competition, we've compiled a list of some names we expect to see on the line-up when it is released next Wednesday, April 23.
The Black Keys
The Black Keys still owe Australia. Despite touring Australia nationally in 2012, they cancelled on a heartbroken BDO audience in 2011. With the new album, Turn Blue, on its way, a headline set at Splendour would be a glorious return for the duo.
Chances: Their last festival is Latitiude in the UK on the 20 July- plenty of time to head down under for some Byron sunshine.
Outkast
Outkast are another hot contender for the headline spot. They reunited for their 20 year anniversary at Coachella this month and are set to play over 40 festivals over the globe. There is a Splendour-sized hole in their touring schedule too.
Chances: Lock it in, I'd say.
The Preatures
Straight off the back of a stellar slot at Coachella and an American tour, The Preatures could make a heroic return to Australia capped off by a set at Splendour In The Grass. In the past, Splendour has booked many artists (The Jezabels, Chet Faker, Flume) that have their ultimate live breakthrough and splendour and Isabella Manfredi and co. could just be the next one.
Chances: Count on a mid-afternoon sing-along to Is This How You Feel? In Byron.
MØ
Danish pop star, MØ, did a short jaunt around the country last year, however, she is yet to play it a festival crowd here. With her debut album, Mythologies To Follow, out, she could fill a Splendour up and comer slot easily.
Chances: Her schedule says, yes, it just depends on whether she's Splendour material.
Blood Orange
Dev Hynes is due for an Australian tour. He hasn't been here since he supported Florence and the Machine in 2012 and with a new album out he's got plenty of material to flaunt. He's impressed festival audiences across America and Europe. Maybe it's about time he did so here.
Chances: Fingers crossed, but no certainty.
Cut Copy
They played Future Music Festival but surely Splendour is their more favoured stomping ground. They killed it back in 2011 and would do the same again in 2014 armed with a whole new bag of tricks off the new album, Free Your Mind.
Chances: Their national tour in May suggests that it may be a big ask to come back again in July but they must be used to the jet-lag by now. It would require a hasty turnaround to play Osheaga Festival the weekend after.
Foster The People
With a new album out, Foster The People will no doubt be trying to fit in a trip down under. Splendour, which they played as youngens in 2012, could be the perfect place for a main stage debut in Australia.
Chances: Every other festival will also be trying to snap them up. Splendour could be too early in the promo cycle.
Duck Sauce
With a new album Quack out next weekend, A-Trak and Armin Van Helden could be up for a jaunt down-under. They would be a perfect addition to the dance line-up and would likely pull a large crowd.
Chances: A possibility if they haven't already been snapped up by Stereosonic or Listen Out.
Courtney Barnett
Barnett is possibly the biggest Aussie name in the international music scene at the moment. She's become an NME darling and is booked to play some of the largest festivals on the circuit including Coachella and Sasquatch. It could be a triumphant glory-run, if she returned home for Splendour.
Chances: She has July off so it could be a good chance to pop back home.
Modest Mouse
This one could be a long shot but the band are playing a number of festivals this Summer and have a touring gap to play Splendour. The only way we'd excuse the absence is if they were holed up recording their sixth album. It's been nearly seven years since their last, We Were Dead Before The Ship Even Sank.
Chances: Slim but a definite potential none the less.
http://www.youtube.com/watch?v=62zslOQLuQ8
SBTRKT
The masked producer was in Australia last year for a quick visit, but a big festival show is long overdue. Particularly when he has just released a new EP, Transitions.
Chances: He's playing Fuji Rock in Japan the same weekend. Splendour has been known to share acts with Fuji. Pencil him in.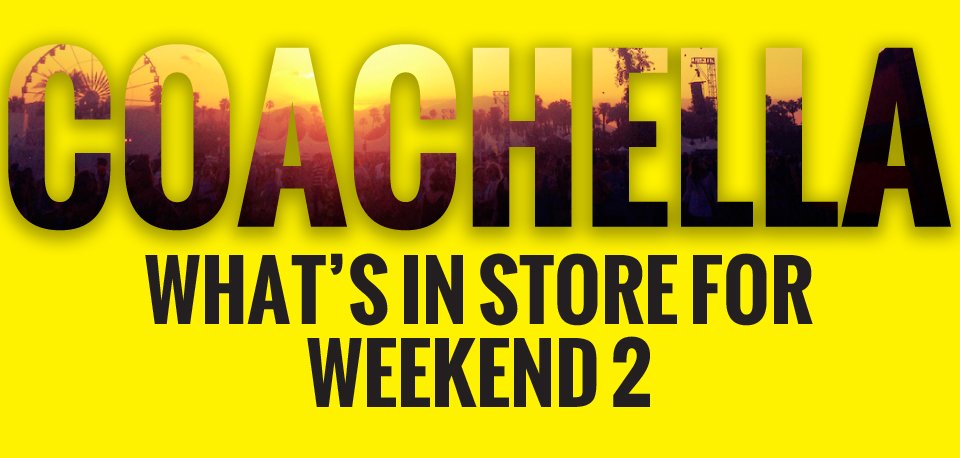 If you missed the stream last week, now's your second chance to right your wrongs. Week One brought with it a plethora of guest appearances, left of centre covers and euphoric moments. If you're there on weekend two like us, you have the rare benefit of hindsight. For those who are streaming, you also get to decide who's worthy of taking up your weekend mornings on YouTube.
Outkast
Big Boi and Andre 3000 had mixed responses last weekend. While their career-spanning set was jam packed with classic Outkast, 3000 seemed to lose interest about halfway through, culminating in a performance of Hey Ya with his back turned on the crowd. Here's hoping he gets his shit together come weekend two and matches the faultless energy of Big Boi.
Pharrell
The Man of the moment, Pharrell, put on a star-studded event being joined by the likes of Gwen Stefani, Diplo and Snoop Dogg. While his voice let up, the energy level never dropped as he rolled out hit after hit to a crowd unphased by the dust storm. As his voice drew its final note, he announced that next week he'd be back bigger and better. Well then Pharell, over to you…
HAIM
Haim are the quintessential LA band and so Coachella is the perfect festival for them. There's really no more to say apart from the fact their debut album is so damn accessible it's almost impossible for anyone to deny the ear candy coming right at you. On weekend one, Este told the crowd she wanted to hear the sound of ass claps- what more could you want in the Californian desert.
Girl Talk
It's a surreal experience watching Girl Talk in your bedroom at 4pm on a Friday afternoon with an uncontrollable feeling to dance. Gills is one of the only acts of the weekend who's energy translated through the YouTube stream. If you're in the mood for a booty shake, Greg Gills is the most consistent of performer. It's unlikely he'll let you down.
Chance The Rapper
At only 21, Chance is probably the biggest new name in rap music. His Coachella set was jam packed with tracks off his fantastic mixtape, Acid Tapes; perfect for a mid-afternoon grind. Last week he brought on Justin Bieber- luck or misfortune, you be the judge.
Arcade Fire
The Sunday headliner is always bound to be a classic but, wow, do they put on a sound. The added disco flavours of Reflektor sit nicely alongside the other three records. Also Blondie came out last week for a cover of Heart of Glass. I wonder if they can top his next week.
Solange
We're hoping an album is close to being finished but for the time being we're content with the fact that Solange was the queen of the desert last weekend. She brought on Beyonce at the end of her set for a dance-off but the moment belonged to the quirky sister. She had the crowd in a flurry of movement, particularly with her flagship song, Losing You.
Chromeo
The Canadian funksters had us dancing in front of YouTube on Friday night. They deliver such a high energy set and with new tracks from their forthcoming album, White Woman, to show-off they really took height. Jealous (I Ain't With It) was a particular stand-out working the crowd into a well-deserved sweat.
Adelaide-born beats wizkid Motez delivers this week's Weekend Windback with his fresh remix of Madison Avenue's "Don't Call Me Baby". Celebrating 21 years of local label Vicious Recordings, this all Australian re-rub stays true to the catchy mood of the original millennium hit, but adds his own signature bass line and slick modern synth to keep you up and moving.
This ingenious house innovation adds to an impressive list of singles from this bass, fast-rising producer. Cementing himself in the 2014 Aus music calendar, Motez is supporting Disclosure in their Melbourne tour leg this May, and set to release a new EP in April through Sweat it Out.
[soundcloud]https://soundcloud.com/tonicollision/dont-call-me-baby-motez-remix[/soundcloud]
tUnE-yArDs has a penchant for taking a trend and turning it on its head. And that's exactly what she's done on, Wait for a Minute, the latest track from her forthcoming album Nikki Nack. She's undoubtedly heading down the lane of RnB but she's swung a left, crashed through a fence and found herself at an anarchy-stricken kids party. It may sound messy, but it's a beautiful thing. It's smooth and effortless but at the same time it chops and changes whenever it pleases. tUnE-yArDs may have traded James Brown soul (Bizness) for How To Dress Well-flavoured RnB, but it still sounds undeniably like Merrill Garbus on her A game.
St Lucia and his crew make for a colourful bunch. Jean-Philip Grobler (AKA St Lucia), along with Nick Brown, Ross Clark, Nicky Paula and Patricia Beranek have been tearing up the airwaves with various songs from their indie-pop album When The Night.
Naturally they arrived on stage to an excited room ready to dance to the highly moveable South African flavours. And taste them we did.
Apart from sore feet, here's what I took from the concert:
1. Choir classes pay off 
Starting off the night off with radio-favourite The Night Comes Again, Jean-Philip's choir-boy background really shined through; his vocal capabilities exuded a quality only years of dedicated practice could do.
2. St Lucia can smash a cover 
Jean-Philip and his backing band surprised everyone by performing a boppy rendition of Chaka Khan's '83 hit 'Ain't Nobody'. It's hard to believe that this '80s hit could become any more balmy but St Lucia and his band worked the crowd into a hot sweat.
3. There is such a thing as too much wind machine. 
Lucky his bouffant 'do could handle the gale force.
4.  He likes it loud (his clothing, that is).  
Keep updated on his appealing apparel that would make even Solange Forest Green with envy on his Twitter account.
Debuting this @Soullandcph shirt in Australia in a few days! Can't wait to be back, it's been WAY too long. pic.twitter.com/Ek9s5Hv8kq

— St. Lucia (@stlucia) March 30, 2014
When is someone at @mastbrothers going wake up and start making shirts with the same prints as their wrappers? pic.twitter.com/S1r4jgspYd

— St. Lucia (@stlucia) March 26, 2014
The new @Fluevog ' so debuted in Vancouver pic.twitter.com/Ahqbp9EMgk

— St. Lucia (@stlucia) February 4, 2014
5. The energy translated from album to dancefloor 
Despite the set occasionally lulling into a few too many la-la-las, by and large it was an energetic, sunshine-driven affair. Towards the end of the night, effortless transitions between songs ensured the dancing pit never quit. Elevate was as euphoric as you'd expect and the glistening island-inspired percussion transformed the room into a Caribbean getaway. The more dance-centric September delivered perfectly constructed climaxes, driving the evening home before we were willing to call it a night. That enthusiasm was (unfortunately?) noticed by a fellow punter who complimented my friend and me on our 'enthusiasm' which 'made her night.' I, myself, would pass the compliment onto St Lucia but, hey, my pleasure.
St Lucia wrapped up his National tour in Melbourne on Tuesday before making his way back to the US.
This week, the(in)terns are dating pop. From the euphoria of a Cut Copy dance floor to ear candy from rising pop queen, we've cast our fairly invalidated judgement on a new batch of singles. While there's plenty of love this week, there's also a few spiteful tongues as alt-country music falls flat and Drake gets a little too sleazy.
One tune this week made us all fall in love, with three willing bachelorettes naming it the pick of the week.
Cut Copy- In These Arms of Love
Hannah: Nothing to see here folks. 2
Bianca: As a self-confessed Cut Copy fan girl (the rest of the(in)terns can confirm this) it pains me to say that this song should have perhaps remained a left-over. Dan Whitford's usually on-the-beat voice sounds drawly and at times whiney and the guitar riff in the instrumental breaks sound like new school Coldplay (that's not a compliment). Luckily this gal takes a man with their flaws. 3
Sam: I'm also an avid Cut Copy fan and like Bianca I ain't giving up. For me, this song is redemption after an album less impressive than those before it. It's expansive, atmospheric and melancholic. The synths come on thick and fast- just the way I like it. Add glitter bombs for extra effect. 3.5
Lizzie: Errrgh my ears are still ringing. I feel like I am stuck in some weird psychedelic Star Trek episode…that never made it to air. 2
[soundcloud]https://soundcloud.com/modularpeople/cut-copy-in-these-arms-of-love[/soundcloud]
How To Dress Well- Repeat Pleasure
Hannah: This song is infectious. With hand-clap percussion and catchy guitar riffs, Krell makes heartbreak sound sweet like only an R&B enthusiast with a killer upper register could. Taking on Mariah with his tingling "Even broken, my heart will go on" is a bold but totally welcomed move. I repeat, Mariah territory is never bad territory. 3.5
Bianca: The clap is infectious. Now let's talk about the song.. Straight out of the '90s, this head-boppin', toe-tappin' good time takes me right back to the day with its rhythmic beatine, surface-lying guitar strums and Tom Krell's soothing falsetto. I'm keeping this pleasure on repeat. 4.5
Sam: Tom Krell has gone from strength to strength. And It Was You was a total jam and Repeat Plesure betters that. It's straight out of Ashanti's song book with a fairly flat-lined melody but buttery instrumentation aplenty. I also heard him gush over Ciara with Jacques Greene and ever since then I've been a massive fan. 4.5 Sam's Pick
Lizzie: This song belongs in "Give a song a chance"! The first time I listened to it I was not sold. Second time, it really blossomed into a beautiful track. I agree with you Bianca, straight out of the 90's. And now to listen again, again and again. 4
[soundcloud]https://soundcloud.com/howtodresswell/repeat-pleasure[/soundcloud]
Drake- Days in the East
Hannah: The best and worst part about this is the teasing Rihanna sample. More RiRi please. 2.5
Bianca: Too R&B sex playlist for me. Keep this locked away in the after-dark collection. 2.5
Sam: Surely this is a left-over from Nothing Was The Same. It sounds in the same lane as Own It or Furtherst Thing. And I'm ok with that. It's another understated jam where Drame proves he's becoming a more effective singer than a rapper. Rihanna and Drake are going out now right? That sample is so kuwaii. 3.5
Lizzie: Hellooooo stripper pole. Not your best Drake. 2
[soundcloud]https://soundcloud.com/octobersveryown/drake-days-in-the-east[/soundcloud]
Rita Ora- I Will Never Let You Down
Hannah: It's reassuring that in the lead up to her second album Rita Ora "will never let you down." Good one Calvin, you've given this pop princess the credibility she deserves. 3
Bianca: Very simple, classic pop song. Neither here nor there for me. I didn't have high hopes to begin with so fortunately Rita hasn't let me down. Although in saying that, Calvin is better on his own and needs to ditch the poor man's Rihanna – there's no love found in this hopeless place. 2.5
Sam: So this is what talented couples do in their spare time. As far as pop songs go this is an A+. I like how Calvin tones down his synth break but I'm starting to grow tired of him. I feel he's up for a Guetta style fall from grace as it seems he's oversaturated the market. This could be his last moment in the sun. Rita on the other hand will surely have yet another hit record on her hands. 3
Lizzie: Calvin and Rita – bangin' couple in real life but they do not hit it as a music duo. At all. Rita is still too cookie cutter, Aria Top 40 for me and "I Will Never Let You Down" is no different. I really want her to do something risqué with her beautiful voice. 2.5
Chrome Sparks- Goddess
Hannah: The title track off Brooklyn producer Jeremy Malvin's forthcoming EP, Goddess is flawless. Sucking you in with deep synths and an almost Seekae sound, Goddess builds into two climatic crescendos so effortlessly imbued with vocal loops and twinkling galactic samples, you'll be up, down and back up again before you even notice it. Scared to miss a single moment of this stellar roller coast ride, Goddess is on repeat. 4 Hannah's Pick
Bianca: Love the moodiness to this track and its underlying intergalactic feel. Very Fritz Lang-esque. Hot tip: listen to this song whilst feasting your eyes on this classic on mute. 4 Bianca's Pick
Sam: Such a velvety slice of ear candy. It just ticks all the boxes. A slow, brooding start and a gloriously climatic finish. It's got so much texture and dynamic to it- impressive for such a young gun. It's probably not immediate enough for it to really take off but a cult-following is sure to ensue. Count me in. 4.5
Lizzie: This track is beautiful- a pure, layered delight to listen to. If only the "drop" (for lack of a better word) at 4min 35 secs came earlier, thats when I experienced some serious earporn. 4.5 Lizzie's Pick
[soundcloud]https://soundcloud.com/chrome-sparks/goddess-1[/soundcloud]
First Aid Kit- My Silver Lining
Hannah: Sure to find itself on The Js high rotation soon, My Silver Lining brings you the midwest straight out of Sweden (wait, what?). With big strings and even bigger harmonies, the latest offering from duo First Aid Kit promises long dusty road trips and hopelessly hopeful mornings spent in forgotten hotel rooms. Bring on Summer. 3
Bianca: Hannah: Summer's gone and this track should go with it. Adios, Amigos! 2
Sam: The Lions Roar was a standout record for me when it was released. And I like this. It's confident and assured but I can't help feeling it's more of the same. Hopefully the album has a little more variation but this is enough to whet the appetite. 3.5
Lizzie: Did Lana Del Ray go on a Western adventure? Sure sounds like it. I do like the sway this song has, and the violins, banjo and vocals work well together to produce and digestible cowboy track. Yee-haa!! 3.5
Listen Up! is the(in)terns way of giving a song the isolated attention it deserves. It's the track that says stop what you're doing and slow dance, grind or head thrash immediately. Our first Listen Up! is from the incomparable Annie Clarke, otherwise known as St. Vincent. April 5th marked 20 years since Kurt Cobain's death. In memorandum, St. Vincent took on the ballsy task of covering Nirvana's Lithium at a show in Chicago. It's a far cry from the left-field, brassy pop of her latest self-titled effort, but she slays. The chorus is one that even Courtney Love would be pleased with. It's everything it should be: angst-driven, angry and anxious. Clarke sticks close to the original, taking the beast on head-first and wins. The recording is low-quality but it adds a certain lo-fi charm.
Every year there is a host of brilliant records that fail to capture the spotlight when they are released. Sometimes it's simply because they have no established profile othertimes it's because they release it on the same day as Beyonce surprise releases an album or Miley flies on a giant hotdog. Whatever the reason may be there is some gold that has fallen through the cracks this year. Below are five albums that we deem to be worthy of a first listen or re-listen.
Rome Fortune- Beautiful Pimp II
Beautiful Pimp II is the follow-up to last year's Beautiful Pimp mixtape. Calling something a mixtape often suggests that it's rough or unfinished. Beautiful Pimp II suggests the complete opposite. Produced entirely by CitoOnTheBeat, it's a cohesive effort that revels in its understated beats and melodic raps. Mixtape standout I Was On One, I Can't Lie is a chopped and screwed masterpiece while closer So is coated in beautifully warm keys. It's not what you'd expect from an Atlanta rapper but it's a refreshing take on the genre that deserves to have people talking about it.
Lyla Fox- Mirrors The Sky
When your debut record's a grower, it's always hard to grab immediate attention. A grower is most-definitely the word you'd attach to singer/songwriter Lyla Fox's debut record. Fox recorded the album in the English countryside, isolated from reality and it shows. Mirrors In The Sky sounds beautifully detached from the chaos of the city. Instead, it floats along on a melodic cloud, peppered by carefully selected instrumentation and pixie vocals. Let it rest with you a while and Mirrors In The Sky will present itself as a dusky, self-assured record.
Dena- Flash 
Perhaps it will be obvious on first listen of Flash why Dena hasn't gained the attention she deserves. It's a hard album to swallow, founded on a mix of left-field hip-hop and pop. Once you get used to it, Flash oozes sass and cool. It sounds youthful, vibrant and modern like a cross between M.I.A and Yelle. Cash, Diamond Rings, Swimming Pools is a lesson in minimalism, lifted by Dena's nonchalant attitude. Elsewhere on the record, she presents Timabland-esque production on Games- the most straight-forward moment on Flash. Yes, it's odd but it's a party from start to finish; partly obnoxious but also a heap of fun.
Eagulls- Eagulls
NME has already gushed over this record, but it's underrated in the way that it should be amassing a large cult following by now. If you compare it to the mighty public reactions to records from Cloud Nothings or Palma Violets in the past, then this album looks like it's been criminally ignored. Eagulls is a sea of raucous noise- distorted and tempo-raising. However, it never sounds messy. Behind it all, lead-singer George Mitchell delivers a hearty vocal that injects just enough melody and stature to keep everything in check. That's further aided by the killer hooks that are delivered on every song. They may be an unambitious alternative band, but there's some anthems on this debut like the Sonic-Youth sounding Possessed. If you have trouble connecting to Eagulls then watch the band perform live. On stage, Mitchell is an anxious and tense performer that creates an uncomfortable aura that's also thrilling to watch.
</span><span style="font-family: Consolas, Monaco, monospace; font-size: 12px; line-height: 18px;">http://open.spotify.com/album/1WXa2R14fPFcP4TvWZASl3</span><span style="font-family: Consolas, Monaco, monospace; font-size: 12px; line-height: 18px;">
100s- IVRY
IVRY may just be the funkiest rap music, this side of the century. With obvious nods to Andre 3000, 100s is a personable and colourful rapper. If the cover doesn't already make it obvious, IVRY is not your standard rap record. He takes Prince's infectious funk and lays on top an effortless flow that's both seductive and arrogant. When I think of IVRY, I think of a dim-light, a circular bed and purple satin sheets. While it may all sound a bit creepy, it's the sort of seduction that Prince and most recently Miguel have become masters in. If you can handle a line like "this is for bitches that like to get high" (Ten Freaky Hoes) you're likely to fall in love with IVRY. If not, avoid this. There's much more where that came from.
[soundcloud]https://soundcloud.com/foolsgoldrecs/sets/100s-ivry[/soundcloud]
"I'm new here", sang Gil Scott-Heron on the title track to his penultimate record. Newbies gives us the chance to introduce those that are just beginning to scratch the surface of the music-world. It's our chance to introduce them to you and hopefully light the flame to a beautiful and fulfilled musical relationship.
Each week, we'll bring you four up and comers. It's your job to tell us: unsubstantiated hype or glorious potential. As always, first impressions count. Meet this weeks Newbies below.
[soundcloud]https://soundcloud.com/yfrnco/sets/futurefunk-ep[/soundcloud]
This 19 year-old producer from Brisbane has been making waves for almost a year but a new EP and a few stellar remixes have moved Young Franco to the tips of many peoples tongue. He dropped his debut EP Futurefunk this year and is joining Alison Wonderland on her mostly sold-out Australian tour of warehouses. His soundcloud reveals an impressive resume including remixes of Broods and Major Lazer and his own nu-disco-inspired, bass-throbbers. Australians are eating up this brand of summery, groove-infused production and he's likely to have a big year ahead of him. He joins a host of young Australian DJs transforming the national dance music spectrum alongside Wave Racer, LDRU and Motez
For fans of: Motez, Todd Terje, Classixx
Avoid if: The Flume revolution is driving you towards insanity
What's next: A national tour with Alison Wonderland. Catch dates here.
Often all it takes to captivate is one songs and that's certainly the case for young Brit, Shura. Touch has been out for under a month and it's already captured the hearts of all/98 per cent of people that met ears with it. It's also being played on Radio 1- the holy grail of British radio. And how? Purely on the merit of the song. It's a slinky, soulful pop track that is instantly infectious. The video emulates the theme of intimacy that permeates the song with grace and style. In other words, if you like watching people smooch- hit play.
A quick google of Shura lead me to find out that it means 'consultation' in Arabic- I've racked my brain for how or why that relates to their sound and have turned up nothing. The moral: I need to quit Google.
For fans of: How To Dress Well, Blood Orange, SZA
Avoid if: you're not a fan of up close and personal
What's next: Hopefully a second track as buttery as this
[soundcloud]https://soundcloud.com/sway-clarke-ii/idnm[/soundcloud]
Still salivating from Miguel's delicious cover of Bennie and the Jets? Then this Toronto-born, Berlin-based soul-man may be just the remedy. Two tracks down, he's impressed both times with a Franck-Ocean brand of sporadic R&B. His latest track, Secret Garden, powers along with a hard-hitting piano line in the same vein as Bennie and the Jets. He cites his influences as everything from Peter Gabriel to Deadmau5 to Jay Z and it shows. He sounds like an old-soul operating in the contemporary realm, similar to what Damon Albarn did with Bobby Womack on The Bravest Man In The Universe. His dark reworking of Kendrick Lamar's Swimming Pools is proof that Sway Clarke's capabilities are potentially endless.
For fans of: Frank Ocean, Miguel, Solange
Avoid if: You're still hurting from Frank Ocean's Splendour In The Grass cancellation
What's Next: He's just done and handful of shows with HAIM but there have been no extensive tour announcements yet. Hold tight, I say.
[soundcloud]https://soundcloud.com/klomusic/make-me-wonder[/soundcloud]
Like Shura, Klo are likely to extend to a mass audience off the back of one song. Make Me Wonder was released last week and it has already amassed close to 20,000 plays on Soundcloud. And rightly so. It's an impressive debut built from dazed beats and crawling vocals. Make Me Wonder is one of those sleepy growers that charms with every listen, slowly infiltrating.
Klo are another notch in the belt of Aussies likely to take over the world. Hopefully the Melbourne duo hurry up and tour their homeland before they run of overseas to please a growing mass of fans.
For fans of: SOHN, Tinashe, SAFIA
Avoid if: You have chronic fatigue
What's next: Only a week has passed since track one. We'll have to wait and see.
Welcome to Weekend Wind Back, the first of our weekly feature in which we find the best remake of a classic song from the week that was and deliver it right here for listening pleasure.
Rounding out this week is Chitown duo, Autograf and their remake of the Marvin Gaye, all American classic, Grapevine. A glitchy rendition laden with steady snaps and heavy on the Nicholas Jaar influence, this remake lets Gaye's vocals linger, soulfully as ever, over an initially paired back intro before moving full throttle into pure dance territory. More often than not, remakes of such iconic songs have a tendency to lose the integrity of the original beneath thumping bass lines and synth-happy crescendos. Autograf manage to steer clear of this territory in their truly modern rendition of the 1960's classic.
[soundcloud]https://soundcloud.com/autografmusic/marvin[/soundcloud]
A round-table review of the week's singles featuring Sam Smith, EMA and Jamie xx.
Method to the madness: Each week we, theinterns, will select the most noteworthy new releases and take them for a spin. Each of us will score the track out of five and choose the best tune for our audio dietary requirements. Let the madness ensue as the tracks pass through the ears of an EDM queen, a nostalgic RnB revivalist, a lover of all things alternative and a 90s fein.
Sam Smith- Stay With Me
Sam: So simple, yet so effective. His voice is just so good- couple that with the choir and this song takes it to church. This is surely bound to be another hit for him. 4
Lizzie: He's is bringing back the gospel to the masses which is something new and captivating. His voice is enchanting in the same way John Newman was with his collaboration with Rudimental. Can he carry his own album though? I am excited to see. 3
Hannah: Sam Smith knows when an understatement it is just the right statement. Consistent snare, simple piano, perfect voice. Stay With Me verges on ballad material but with  the same restraint and control as Smith's vocals, pulls back before hitting Mariah territory. Side note, Mariah territory is never bad territory. 3.5 
Bianca: A mellow love ballad which treads along at a satisfyingly easy pace. I spent the song waiting for it to reach a gospel-esque peak and was relieved that the extent of its crescendo was maintained to modest church choir levels. The casual tambourine taps and nonchalant piano chords, accompanied by Sam's ballady vocals, make it a bit too 'Love Song Dedication' for my liking but I can see how it could easily stick in the head. Begging for a remix. Over to you, Richard Mercer. 3
HAERTS- Call My Name
[soundcloud]https://soundcloud.com/haertsmusic/call-my-name[/soundcloud]
Sam: It's somewhat surprising that the bombacious All The Days is followed up by this mellow and warm track. For me, it has the vibe of a more tasteful Take My Breath Away, with a powerful chorus that only an 80s inspired track can deliver. 3.5
Lizzie: Oh God i'm bored 2
Hannah: Yawn. 2 
Bianca: I'm not bored. I think it's such a warm track that just has melody oozing out of it. 3.5
Jamie xx- Sleep Sound
Sam: Jamie xx kills it everytime. That throbbing base-line takes you to the clubs without even knowing it and those sporadic RnB samples inject just enough melody to keep it pacing along. 4
Hannah: Totally agree with Sam. Jamie XX has an undeniable ability to make 1am turn into 5am very quickly and this mix is no different. The base-line has my body pulsing before I know it and the melodic samples are doing all kinds of dreamy thangs. On repeat. 4.5
Lizzie: When was the last time Jamie XX dropped a solo single? I am so used to just hearing him play long, mesmerizing festival sets. This guy can do no wrong. I could dance, run, chill or sleep to this song and that's no mean feat. 4.5 
Bianca: When Jamie xx was here for Laneway in February he played such an expansive and mesmerizing twilight set. This encapsulates that exact feeling whilst lulling you into another world. 4 Bianca's Pick 
SZA Feat. Chance The Rapper- Childs Play
[soundcloud]https://soundcloud.com/topdawgent/sza-feat-chance-the-rapper[/soundcloud]
Sam: Just another reason to be excited for Z. Somehow she makes the line "Stuck in Nintendo, you're the controller" sound sexy. It's not hugely different for her but the addition of Chance The Rapper is a choice move. 4  

Hannah: I love the lazy lull of this song. Totally sensual, totally indulgent, totally appropriate for the hazy hours of a sunday morning. Babies will be made to the sound of SZA and Chance wondering how we used to was. 4.5  Hannah's Pick
Lizzie: The female vocals on this track are so seductive. I just melt into this song, but just as I thought I was going to nod off (in a good way!) Chance comes in, creating a strong a closing harmony. 4.5  Lizzie's Pick 
Bianca: Eh. It just plods along for me. I'm not overly excited. 2 
EMA- 3Jane
Sam: Nothing that's surfaced off The Future's Void has excited me quite as much as this. EMA has such a creeping power to her voice when backed by a clean-cut melody. The ever so subtle climax at the end is pretty special. 4.5  Sam's Pick
Hannah:  Look I understand EMA is going somewhere with this but I'm just not going there with her. It's a solo race to this climactic finish. 3
Lizzie: You've gotta be in the right mood for this song. I was not. I spent most of the song contemplating my future and what not. But hey, I see potential in her voice and general "don't give a fuck". Maybe i'll try again later. 3 
Bianca: I lost interest and started paying more attention to clicking my pen. That was fun. 2
Velociraptor- Ramona
[soundcloud]https://soundcloud.com/velociraptorband/ramona[/soundcloud]
Sam: I feel like Ramona is a guilty pleasure because the melody just melts into your ears so easily. It's a sound that's been flogged a lot on Triple J recently but this is one of the more enjoyable tunes I've heard out of a J's band for a while. 3
Hannah: Pure Guitar Hero material – fun to master, less fun to listen to. Sorry J sound. 3
Lizzie: Look. I didn't hate, but I didn't love it. Its got the foundations for a great boppy, just-out-of-your-best-mate's-garage song, great for the young Triple J teeny-boppers. But I can't help feel like this came from the soundtrack for "Angus, Thongs and Perfect Snogging." 3 
Bianca: I'm enjoying this. It's classic indie-rock done with energy and fun. Now my problem is getting it out of my head. 3.5
©2017 THE INTERNS MUSIC, ALL RIGHTS RESERVED.