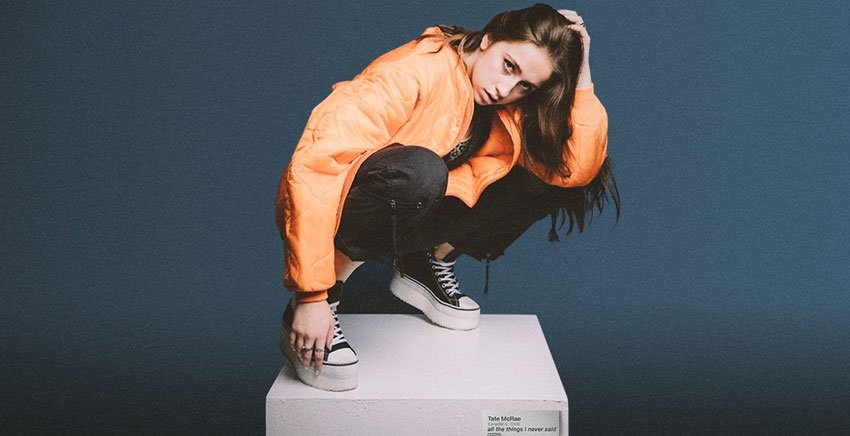 "I can't believe this is actually happening," rising, 16-year-old popstar Tate McRae exclaims over the phone, hours before a sold-out New York show. It is actually happening. McRae has begun the decade with her debut EP all the things I never said and is already racking up millions of streams. Stupid, in particular, is taking over, garnering well over 30 million streams. 
You can hedge your bets on a young star but there's never any guarantee that they're going to take over. Even if they have 2 million subscribers of YouTube, as McRae does. It's happening quickly for her though. She's already sold out the first part of her North American tour and is seeing herself on billboards in Times Square. 
"It's crazy to think that I'm traveling the world right now," she says with genuine excitement. 
McRae nabbed initially attention by uploading original songs on her YouTube channel - one a week. Accompanied by her piano, she vividly explained the teenage experience from losing friends to young love. It connected quickly. Many of her original songs have millions of views with the comments flooded by comments by young girls connecting to what she's saying. 
"Every single thing I feel I release in a song almost every single week," she says, stopping to admit that her life isn't like any regular teenager anymore.
"I know that I'm writing songs and I'm in LA but I also have my life back home and things happen every single day and I have feelings about that."
The EP is an extension of the songs shared on McRae's YouTube channel. The honest lyrics are still there but they're joined by dark, moody beats. Her voice is smokey and instantly recognisable, sitting somewhere between Halsey and King Princess. The songs are perky enough to draw the attention of TikTok but sincere enough to tap at the heart of a broad demographic. 
McRae mentions that her favorite songs on the EP are that way and current single stupid because they show her range.
"They're two opposites. One is a persona, a fun song to sing and Stupid is one that I feel so many people can relate to," she says.
Without knowing it, she's describing her appeal as an artist. She has the skill to embrace the big scale and drama of an era popstar but there's something unmistakably genuine to her. Just because her music is intimate, it doesn't mean she's shying away from big productions. McRae dances "20-25 hours a week" and is excited for that side of her to collide with her music.
"That would be the craziest thing ever to bring dance into a big performance," she says. 
When I ask whether she's inspired by anyone who compares the two she answers, "the icons." I immediately think Madonna or Janet Jackson but she quickly reminds me we're in a different generation now. "Bruno Mars and Justin Timberlake," she continues.
"They are legends for being amazing dancers and putting on a different show. I try to envision the different visuals and ideas. The bar is getting raised every year."
Given the rate at which she's selling out shows right now, it won't be long before she's in venues large enough to handle her vision.