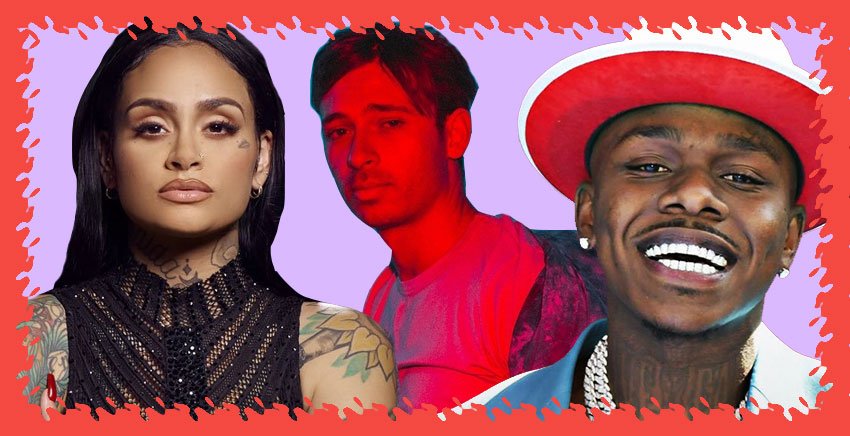 First Impressions is our weekly chance to go head-to-head on the new tunes of the week. Each of the contributing writers reviews the track and then slaps a score out of 5 on it. This week a DaBaby highlight, Kehlani and Zedd's collab and more are up.
DaBaby – iPhone (Feat. Nicki Minaj)
Zanda: Lil Baby, now DaBaby? I can't keep up. Too much Baby not enough Nicki. Most of it could be any number of interchangeable rappers at the moment. Not vibing it. 1
Sam: DaBaby is one of the few new rappers that I'm really excited about right now. It sounds like his voice is bouncing on the beat and it could go anyway in terms of flow. Nicki has always excited me for the same reasons so this collaboration makes absolute sense. The beat on this is a perfect mix of strength and melody and the pair of them absolutely destroy it. I'm always a sucker for some Nicki vocals and she's serving on this. 4
Flume – Rushing Back (Feat. Vera Blue)
Zanda: On first listen I wasn't immediately into this but it's definitely a grower. It's cool to hear Flume continue to evolve his sound, despite winning ARIAs and Grammys. He's getting better at crafting his own style of glitchy melodies to match any vocalist he features, and the production suits Vera to a tee. How good is Vera Blue! 4
Sam: It feels like Flume is straddling a line between pop and experimental electronica right now and he sounds a little frustrated in both. He wants to be doing more with this track but he has to hold back because it clearly has mainstream intention. That said, Vera Blue's verses are gorgeous and Flume's production shines in the chorus. 3.5
Diplo – Lonely (Feat. Jonas Brothers)
Zanda: I was vibing the track before this one, 'Heartless' with Morgan Wallen, so hard. So even though I'm not a Jonas person, I was hopeful I'd like this too, but was disappointed. Aside from the comic value of the video clip (which I love), the track itself just doesn't do what I wanted. With this Thomas Wesley project, it makes sense to feature an actual country artist like Wallen, but this just sounds like shitty lip service to "country" music and I'm not about it. 2
Sam: Diplo had so much to play with on this one. His previous country cuts have been pretty good and the verses here show promise but ultimately the chorus and drop are wet blankets. It's a really lazy track aimed at the charts but I don't think it's even going to make it there. 1.5
Zedd – Good Thing (Feat. Kehlani)
Zanda: Hooley dooley this is a vibe. I cannot believe I hadn't heard this until almost a week after its release. Label reps deciding to sleep on servicing this to radio are shooting themselves in the foot in my opinion. Oh yeah, the music. Zedd can do no wrong these days (unless you're an old fan who hasn't listened to him since 'Clarity', but why not enjoy the old Zedd and the new Zedd equally?) Silky smooth vocals from Kehlani complete this one perfectly. 4
Sam: Kehlani is on a steep glow-up right now and the Zedd feature seems to be an essential pit-stop on your way to the top at the moment. Surprisingly, Kehlani actually gets Zedd to slow it down, allowing her to really fall into the beat and serve vocals. She absolutely kills it. One of the best vocalists in the world right now. 4
Kito – Wild Girl (Feat. Empress Of)
Zanda: Hadn't heard of either of these guys before but i've had this one on a high spin count since last Friday. It's a really fresh pop track and it's cool to see EMI taking a punt on a less typically poppy pop release (if that makes any sense at all). There's enough here to keep electronic music fans interested, but the star is those vocal harmonies. High quality. 4
Sam: I loved this the minute I heard the first chorus. Kito has been edging closer to greatness with each release but everything has come together on this track. It's essentially a pop track but the pair of them have warped it giving it a weightiness usually reserved for club tracks. I think it's a career highlight for both Empress Of and Kito. 4.5
Meghan Trainor – Wave (Feat. Mike Sabath)
Zanda: I'm going to go full old man yells at cloud here, because I really do like Meghan's voice but this whole track is just so over-produced. It's like she's tried to be a bit alternative or something, like 'look at me I'm indie and cool'. You're a good pure pop singer just be that, because whatever this is, isn't working. 1.5
Sam: If Meghan Trainor were to just slowly disappear from music there's no way I'd notice. I have never gravitated to any of her songs and actually find her voice quite difficult to listen to. That said…this kind of slaps? I really didn't expect that beat drop in the chorus and the way they work up to it is really, really nice. Charlie Puth would actually be perfect for this (not that Mike Sabath doesn't do a good job) and if he were on it, it may have made me forget about Marvin Gaye. Maybe. 3
Loading ...