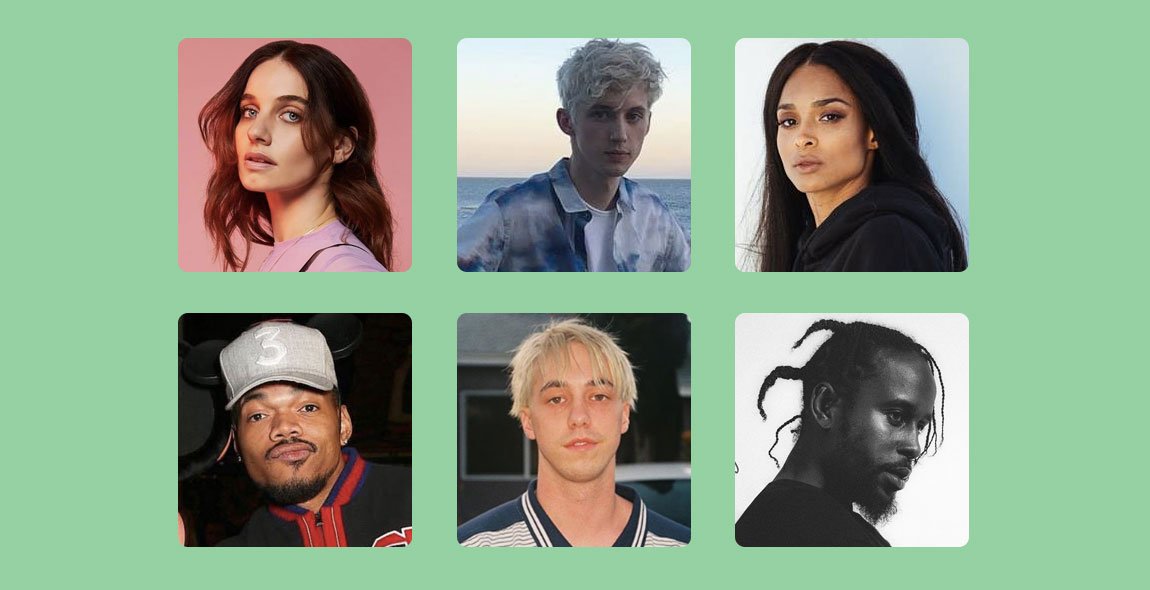 If you're not at Splendour these songs will probably make your weekend marginally better.
11. Billie Eilish - You Should See Me In A Crown
Billie Eilish gives us a serious Lorde moment on her latest single You Should See Me In A Crown. It's tense, attitude-filled and so dark, giving us all those elements that drew us to Lorde's Pure Heroine.
10. Troye Sivan - Better Now
Troye Sivan has taken on one of the most popular songs around right now Post Malone's Better Now. The song rose to the top becoming a fan favourite off Malone's latest record beerbongs & bentleys and now Sivan has given it his own twist. Taking it down the same lane as his own track The Good Side, he strips the song back and makes it even more gentle.
9. Silk City - Feel About You (Feat. Mapei)
Led by Disclosure, the house moment reached boiling point a few years ago but Diplo and Mark Ronson are in the process of reviving it as Silk City. They've found a way to re-energise it though injecting it with pop and giving it a vintage feel, like we're back clubbing in the '90s. Feel About You is their most straight-forward drop yet but it's stellar.
8. Ryan Beatty - Cupid
You may know Ryan Beatty best for singing the heavenly hook on Brockhampton's Bleach but today he's stepping firmly into the spotlight with his debut album Boy In Jeans. Cupid is our favourite. It's a gentle, soulful moment that recalls the melodic unpredictability of Frank Ocean's Blonde.
7. Ciara - Level Up
Ciara is back with her first single in two years Level Up and it's a massive banger. Going back to the crunk energy that characterised her early '00s drops, Level Up goes hard from start to finish.
6. Nina Las Vegas - I Know How It Goes (Feat. Vera Blue & Ecca Vandal)
Nina Las Vegas dropped her latest EP Lucky Girl today and we're captivated by this track I Know How It Goes. Both Vera Blue and Ecca Vandal are featured but their voices are used in ways we've never heard them before. They're altered just enough so they feel otherworldly without becoming unrecognisable. One of NLV's finest production moments to date.
5. Chelsea Jade - Low Brow
Kiwi artist Chelsea Jade quietly released her debut album Personal Best today and it seems she's been hiding this gigantic banger Low Brow from us. That strobing synth at the beginning teases big things and she delivers ushering in the beat and then going big in the final moments. It's the kind of song we could dance to for the entire night.
4. Sam Bluer - Body High
Earlier this year we got a taste of Melbourne artist Sam Bluer's capabilities with the slick Shift but now he's amped it up to the next level with Body High. Body High feels like his true arrival. It's a pulsating, steel drum-bashing triumph that sits somewhere between Troye Sivan and Robyn.
3. Brockhampton - 1998 Truman
Brockhampton continue what seems to be the '1998' series with a new song debuted through their Beats 1 radio show. This one goes way harder than 1998 Wildfire, speeding along with a frantic energy until it slows the pace around the 3 minute mark.
2. Popcaan - Call Me
Popcaan's new album Forever is out today and this highlight Call Me comes pretty early in the set. Popcaan is a supreme crafter of melody and this minimal, dancehall beat gives him so much space to show it off.
1. Chance The Rapper - I Might Need Security
We love an introspective Chance The Rapper moment and I Might Need Security is as introspective as they come. Over a chopped and screwed soulful sample, he shows us exactly why he's one of the most personal and poetic rappers around.
If ya want more of this then you better subscribe to our Spotify Top Tunes playlist: