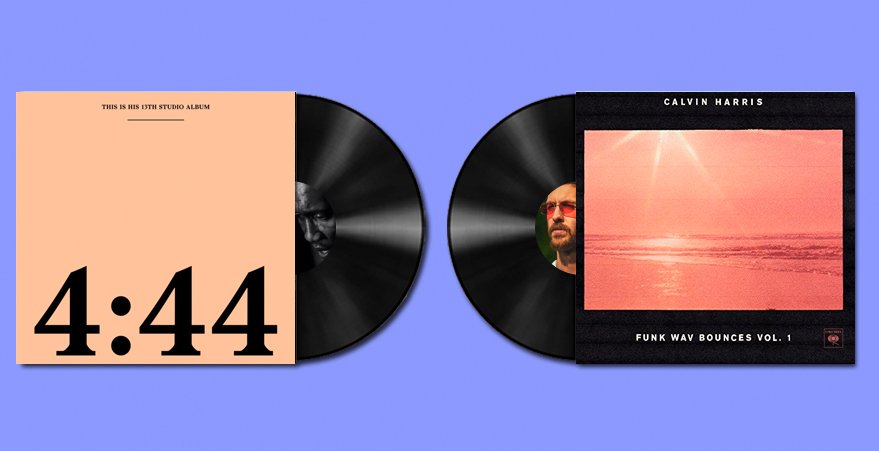 Album Audit is a weekly Interns feature, recapping and reviewing the album releases of the week with a cheeky score out of five.
Calvin Harris - Funk Wav Bounces Vol.1
Album Of The Week
A year ago, Calvin Harris released what may have been his worst single to date My Way - a vaguely tropical track that revealed Harris' fatigue with the EDM genre. How he's gone from that to Slide in 12 months is baffling but it's welcome. Not once does Harris rely on an EDM drop on Funk Wav Bounces Vol.1 and he's managed to turn into a funk master overnight without it feeling strained.
The simple fact is, every song on this record is good. Some are great. Harris has taken tropical flavours, fused them with a West Coast bounce and sprinkled it with a Nile Rodgers groove. The opener Slide sees Frank Ocean forced onto a beat for the first time in nearly five years as he delivers smooth verses over an equally slippery synth. Unlike DJ Khaled's Grateful, Harris isn't entering the artist's worlds, he's making them do their best work in his own aesthetic.
On Heatstroke, he's got Young Thug channeling James Brown, on Holiday he's got Snoop back in that West Coast groove that he thrives in and on Feels, Pharrell's role as funky, party starter is not infuriating for the first time in years. Heck, even Katy Perry sounds good on the latter.
The new voices he's chosen to appear here, alongside the legends, are choice too. Khalid's hook on Rollin is expert, Jessie Reyez's smokey delivery on Hard To Love is excellent and he gives Kehlani the album highlight with Faking It, as she gives a jaw-droppingly good vocal. While he dips into his feels a few times here, it's important to remember that this collection is all about feeling good. If Nicki Minaj's Skrt On Me doesn't make you feel the slightest bit jolly, then we can't help you. Calvin said it himself, these songs have been, "sonically designed to make you feel fucking incredible". 4/5
JAY-Z - 4:44
JAY-Z has made few good decisions in the past few years. Magna Carter was an unnecessarily monumental chest-puff that promised lots and delivered nothing, he fought with his wife's sister in an elevator and allegedly cheated on Beyoncé resulting in one of the most powerful modern pop records Lemonade. That's without even mentioning TIDAL.
It takes mere seconds though to figure out that JAY-Z's making the right decision on 4:44. He begins the record by killing off his ego on Kill Jay Z and it's all out on the table. The affair, the elevator incident, Kanye - all topics of conversation on the first song. Even better, he's in some of the best lyrical form of his life, treating it like poetry rather than a pop song. No I.D. gives us an exposed beat, putting Jay on top, allowing him to expose his dirty laundry.
Where Magna Carter was a 16 song trip of multiple genres, 4:44 is aesthetically tight. It's bound by old soul samples and organic No I.D. beats that place emphasis on the finer lyrical details rather than the larger picture. On Smile, he allows his Mum to come out with a genuinely touching dedication that has Jay rapping, "Cried tears of joy when you fell in love/Don't matter to me if it's a him or her." Big name artists Bey and Frank Ocean appear but they're merely supports. Jay has too much to say to give the highlights to anyone else.
Many will come to pry into Jay and Bey's marriage and if so, you'll be satisfied. The glorious centrepiece 4:44 is a powerful, emotive concession of shame. "And if my children knew, I don't even know what I would do," Jay raps as a howling Hannah Williams sample provides the climax. On Family Feud, he addresses "Becky with the good hair" from Bey's Sorry while she delivers the melodic backbone of the track.
Jay closes the album on Legacy, a poetic explanation of what he's leaving to Blue Ivy, both physically and spiritually. He'll leave her TIDAL (eek), his stake in Roc Nation, his champagne but most of all he wants to instil in her, "black excellence", that's what he wants his legacy to be. 4:44's not going to change hip-hop like The Blueprint or The Black Album but it's important for Jay's legacy. It's his most personal album and it paints him as a person rather than a superhero. Stripped of the ego, Jay's far more interesting. His lyrics are more poignant, his flow is more poetic and his focus is tighter. He needed 4:44. 4/5
It's out now, but it's impossible to listen to if you're not already a TIDAL customer.
Kacy Hill - Like A Woman
There are huge names involved in Kacy Hill's debut album Like A Woman. Kanye West, for one, is the executive producer but the best thing about Like A Woman is Hill makes it feel solitary. It's a gorgeous, minimal record that at many points places Hill's voice next to a sole beat as if she's in a room by herself contemplating her relationships and who she is, as a woman, when she's alone.
It starts with the gentle, elongated title track that asks the question, "What makes you make me feel like a woman?" The whole record is an exploration of feelings and sexuality, how another makes you feel and how you can make yourself feel. On Keep Me Sane, she's relying on a partner but on Clarity, she's "fine". It's this balance between needing and not needing that makes Like A Woman so utterly captivating.
The lyrics are beautiful and strong but the music compliments that beautifully. She's worked with Stuart Price and DJDS on an aesthetic that's fragile but stunning, relying on her voice to provide the power. Static is bouncing, effortless masterpiece, Say You're Wrong is a piano ballad that expands into something far more malleable and Hard To Love breaks the minimal theme for a thundering chorus. It's all in the finite details and while at times it feels it's so paper thing it could crack, Hill is such a captivating subject that she always holds you gently in the pocket playing puppet master to your emotions. 4/5
Read our interview with Kacy Hill.
LANY - LANY
LANY's debut album may be a few years too late. The band from LA, feel distinctly of the time when Hype Machine was at its peak, when SMS speak could be emotive and warm and trendy tunes were enough for Soundcloud reposts. In 2017, it feels like that time has passed and while their debut album has some great songs on it, it's too long and at times more melodramatic than an episode of The OC.
Good news first, when LANY are channelling those giddy feelings of young love, they get it right. ILYSB still packs a big, loved-up punch, Good Girls calls for someone back over a pulsating, dimly-lit beat and Flowers On The Floor is just dramatic enough to recall the lovelorn feeling of teen dramas.
This album falls down when it gets too downbeat and serious. 13 asks, "Where did we go wrong?" but accepts none of the blame, It Was Love drags on thanks to vague lyrics and Tampa is lyrically self-indulgent. LANY are great pop writers. Perky cuts like Hurts prove that but a 16-track album that begins to feel like they're rambling hardly seems necessary. A little editing and an understanding to not take themselves to seriously could've made this a great debut. 2.5/5