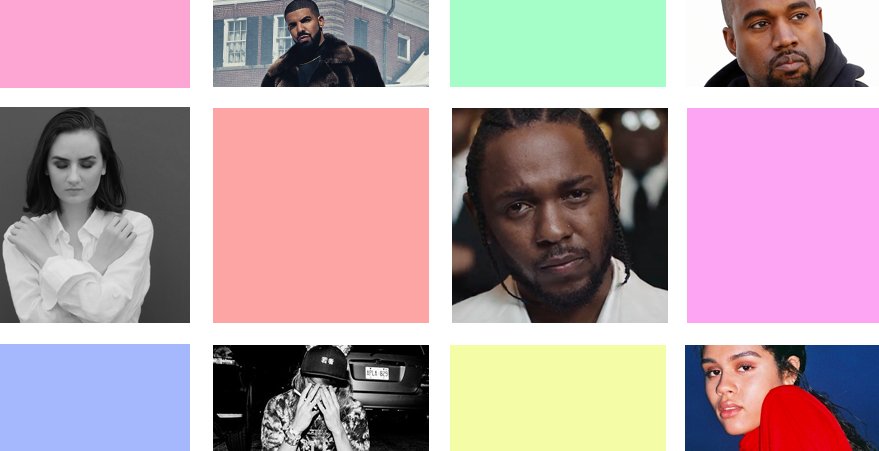 Kendrick is dominating once again but let's not forget about the others.
10. Amber Mark - Lose My Cool
Amber Mark is a singer, signed to PMR Records, the label behind people like Jessie Ware and Disclosure. Her latest Lose My Cool is a worldly, groovy pop song that's about letting loose. The production darts in and out of influences and yet it all comes together beautifully.
9. Meg Mac - Low Blows
Meg Mac is back and gearing up to release her debut album. Low Blows is the first taste of that and, as per usual, Mac is in full soul mood. It's a sophisticated yet richly emotional tune that shows she's progressing as a songwriter and a singer.
8. Sofi De La Torre - $
Our favourite Spanish popstar Sofi De La Torre is back with her first release of 2017 $. $ is an incredibly dark pop song with a hip-hop flow and neon-lit synths. It's understated but it works its way under your skin.
7. Bleachers - Don't Take My Money
Bleachers is Jack Antanoff who, even if you don't know him by name, you've heard a million times before. He had production credits on Taylor Swift's 1989, worked with Carly Rae Jepsen on E.MO.TION and has exec. produced the new Lorde record. Don't Take My Money is his latest drop and it's a hearty, anthemic pop track with a chorus that will blow up radio.
6. Wizkid - Come Closer (Feat. Drake)
Wizkid last hooked up with Drake on his huge single One Dance and now the pair are back together again, this time for a Wizkid single Come Closer. The song was debuted on OVO SOUND RADIO a few weeks back but now we have a proper, streamable version to sink our teeth into. Much like One Dance, it's a dancehall flavoured cut with vocals that slide straight through the slippery beat.
5. Cashmere Cat - 9 (After Coachella) (Feat. MØ and SOPHIE)
Cashmere Cat, SOPHIE and MØ have all linked up for a banging new single 9 (After Coachella). It's basically an anthem for all those who have been let down following a festival romance, capturing the warmth of a summer festival and pairing it with the lyric, "you will never be mine." A few weeks ago we got Matoma's Girl At Coachella which was awful so naturally we were wary about pressing play on this one. Thankfully, it's much, much, much better.
4. Tapz - Run Don't Run
Tapz took his time to return after 2015's Killa but he's made the wait worth it, coming in hot with Run Don't Run. The track definitely has a Kid Cudi vibe about it but it's Tapz's personality that shines through. One of the most confident, convincing rap songs to come from this side of the equator for a long time.
3. Mary J. Blige - Love Yourself (Feat. Kanye West)
The Queen of R&B Mary J. Blige will release her 13th studio album Strength Of A Woman next month and this is the opening track. The horn-driven, grandiose beat gives Blige a chance to flex her vocals and paves the way for one of Kanye's best features in a while.
2. Ama Lou - Lost My Home
Ama Lou only has four releases to her name but she's already making waves as one to watch. Lost My Home has garnered repeat listens from us this week for two reasons. One, her voice is so beautifully textured she could sing anything. Two, the melody on the chorus in this song is a total knockout.
1. Kendrick Lamar - Humble
Following last week's Heart Part 4, Kendrick Lamar has dropped another new song Humble. The track was produced by Mike Will Made-It and it presumably taken from his forthcoming LP which is rumoured to be coming out 7th April (next week). It's probably the most club-ready track he's dropped in a little while, leaving the jazz influences behind momentarily.