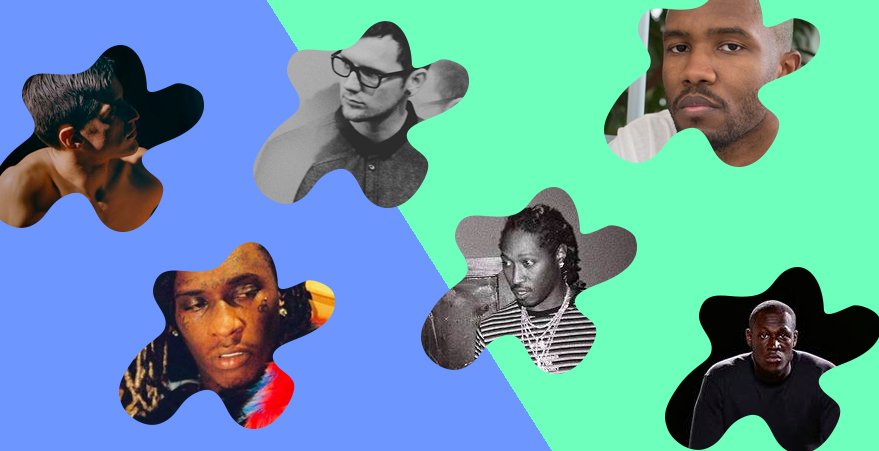 There's a lot out today so sit down with a cool class of water and prepare to devour fire.
10. Running Touch - Lovely
Things are really ramping up in camp Running Touch. In the midst of final preparations for his trek over to Austin, Texas to showcase his talents at SXSW we are also a month out from the release of his debut EP A Body Slow (F.K.A The PM Absolute). Lovely is a little slower than his previous material, but don't let that sell it short as it still packs that dynamic signature Running Touch sound. Elevated through the use of rising keys and guitar work, he does come lovely with the track yet another eloquent showcase of the man's assuringly crisp vocal work. - Harrison Kefford
9. Steve Lacy - Dark Red
In the past month we've seen solo projects from Syd and Matt Martians from The Internet and now guitarist Steve Lacy is joining them. He dropped a new project today and Dark Red is taken from it. Dark Red sounds like the product of Mac Demarco spending a year listening to Michael Kiwanuka and we're 100 per cent here for it. He's soulful but also has this effortless groove that helps the song plod along with little fuss.
8. Miguel & DJ Premier - 2 Lovin U
Miguel has dropped a new single with DJ Premier 2 Lovin U. The track was worked on during sessions for Miguel's third record Wildheart but the full song was never completed until now. It would've been a damn shame if it never came out too because it's a slippery, funky opus centring around Miguel's A+ voice.
7. Young Thug - Safe
Young Thug features comes more often than night time but he's slowed with his own single releases. That's why it's so exciting that he's just dropped a newie Safe. Complete with a video that he actually showed up for, it's a calypso-flavoured track that's in the same lane as his collab with Travis Scott Pick Up The Phone. Now word of Thug has spread round the world, this is likely to get plenty of attention.
6. The Kite String Tangle - Selfish
Brisbane musician Danny Harley has made a ripping return as The Kite String Tangle with his first new music since collaborating with Dustin Tebbut' on Illuminate in 2015. His new track Selfish is a more intense effort, with more driving pulse than we're used when compared to his earlier work. Although not an entirely new direction, tracks like this will give his live performances a whole new energy, and call us selfish but this cut makes the prospect of what's next pretty bloody exciting. - Zanda Wilson
5. Arca - Piel
Arca is without a doubt one of the most experimental producers around right now but instead of ostracising with his oddities, he pulls people in through the pure beauty of his work. Piel, his first single for new label XL Records, is a haunting, ghost-like track that features his own affecting vocal work. It's shiver-worthy and yet still so otherworldly.
4. Thundercat - Walk On By (Feat. Kendrick Lamar)
Bass maestro Thundercat released his third full-length Drunk today and this cruisey jam sits at the halfway point. It's a relaxed, smooth jam that centres around Thundercat's whimsical falsetto before Kendrick comes through with a weighty, rhythmic verse.
3. Future - Selfish (Feat. Rihanna)
Future and Rihanna have come together once before on Unapologetic highlight Loveeeee Song but this newie may eclipse that. The track is taken from Future's latest LP HNDRXX and it's going to knock your heart for six. RiRi croons her heart out and so does Future. Perfect.
2. Calvin Harris - Slide (Feat. Frank Ocean & Migos)
Calvin Harris has been endlessly teasing a Frank Ocean collab like someone who, ah, has a Frank Ocean collab. It's very exciting for the young Scot and not only has he got Ocean on his new track Slide, he also has Migos which makes it unbearably exciting. The track is here and it's a smooth, west coast jam. While Ocean and Migos kill their parts predictably, Harris has also brought his A-game giving us something far more interesting than his drops from the last year or so.
1. Stormzy - Blinded By Your Grace Pt.2 (Feat. MNEK)
Stormzy dropped his excellent debut Gang Signs & Prayer today and this is the shining highlight from it. Stepping out of the world of grime momentarily, he gives us his Ultralight Beam with a soaring, soulful verse from MNEK. It'll give you all the feels and more.