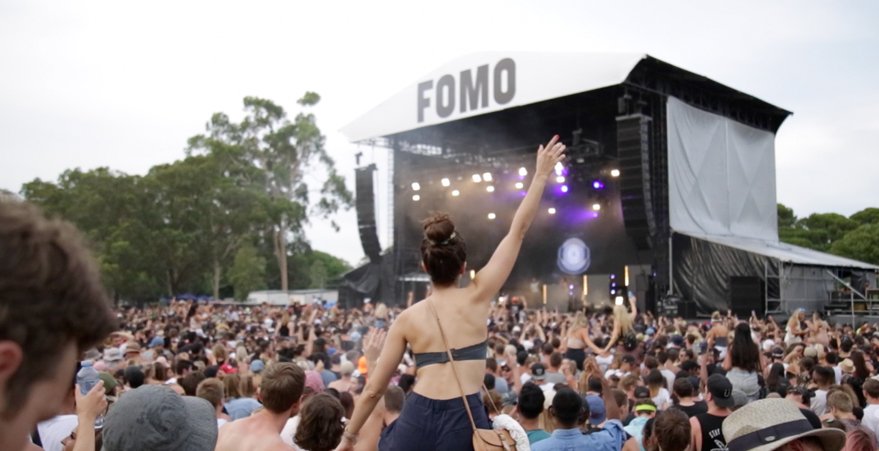 Parramatta Park in Sydney's west played host to the first incarnation of FOMO Festival in Sydney on Sunday, wrapping up the three-date touring festival. As with most festivals held at new venues, there were inevitably a few teething issues (namely drink lines) – but overall the Crescent Stage amphitheatre provided an incredible one-stage experience for punters, while a lineup stacked with internationals probably didn't hurt.
Thousands of punters still braved the intense heat to catch a diverse lineup on a beautiful summer's day. Early in the day Brisbane lad Feki played to a small but loyal crowd – with the producer clearly constantly improving each time he plays live. His set finished with undoubtedly his biggest single You Got Me, which seemed to signify the beginning of a mass arrival of more and more festival-goers.
George Maple kept the crowd buzzing with an energetic performance that was highlighted by her own killer originals like her collab with What So Not, Gemini. She sang and danced through the heat – even pulling of a sultry cover of Britney Spears' 2001 single Boys. She was followed by a high intensity DJ set by Hannah Wants, who began to pull in a massive crowd and warm them up to a perfect temperature for the first big international of the day.
On cue, 19-year old Brooklyn hip hop artist Desiigner arrived on stage for his Sydney debut. It was hard to know what to expect from the young talent, and it goes without saying that his two main singles Panda and Timmy Turner were clear highlights, but his insane energy really resonated with the audience. An expanded catalogue will no doubt help Desiigner put on a more comprehensive performance in the future, but he had the crowd seriously hyped up with a stage dive and crowd surfing in just his second track of the day, plus liberal use of air horns and his trademark 'brrrrrrrra' tongue rolls. Chanting 'Aussie Aussie Aussie, Panda Panda Panda' was also on-point, as he performed his whole set shirtless.
As the afternoon rolled on, the heat finally started to dissipate, but Aussie production duo Slumberjack were having none of that and turned the thermostat back up to a 10 with a typically frothy performance. GoldLink then put on an incredibly funky set, and while he spent some time going through bass-heavy remixes his originals clearly stole the show and tracks like Spectrum and Fall In Love were simply triumphant in such an awesome live setting. Following that, we finally caught a glimpse of something from Skepta's family in the form of his little bro JME who was a clear standout in the afternoon. Smashing out fire raps over filthy grime beats with boundless energy, JME was the perfect pre-set to the headliners that would precede him.
In typical style Peking Duk took to the stage to provide the wildest, loosest set of the day - treating the crowd to fire cannons, toilet paper confetti, and real confetti in an incredible visual performance. As day turned to night, the crowd sung along with Duk's biggest hits like Stranger and High – with plenty of live mixing to keep us on our toes.
They were followed by the clear red herring and only band on the FOMO lineup; Empire Of The Sun, but the band took to the atmosphere incredibly well and put on one of the most visually spectacular shows I have ever seen in my life. With a perfect mix of new songs and older material, they were accompanied by comfortably the trippiest visuals of the festival thus far and also had four spectacular dancers who told a story all of their own with some amazingly choreographed moves.
Song-wise, We Are The People, High And Low, and Walking On A Dream were awesome crowd-singalongs, but with everything else going on that it almost didn't matter what songs they played or the order in which they played them. There were proper rock jams too, when Steele and Luke Littlemore took time from playing songs to just rock out – and Steele also surprised the audience by smashing two guitars live on stage. The costuming, choreography, and visuals were perfected to every small inch of the stage, and just when you thought it couldn't get any more incredible Luke Steele started talking to a disembodied head on the screen behind the band.
Following Empire Of The Sun was not to be taken lightly, and if anyone was going to keep the hype flowing Flosstradamus were the dudes to do it. They had HDY Boys and Girls all over Parramatta Park losing their minds from the very start, as the trap gods played everything from deep trap to dupstep and in between. Roll Up was a clear highlight, Josh Young farewelled Australia for the last time performing as Floss in style with a ripping set entirely performed from their on-stage HDY bunker.