For better or worse, these are the artists that dominated our year and they've all been plonked onto a drawstring bag, available to buy now.
CHANCE THE RAPPER[one_half]
[/one_half][one_half_last]
Chance was a favourite of rap fans before 2016 but this year he climbed hip-hop's ladder and overtook legends to become a household name. Everything he did this year meant something. He worked with Kanye on The Life With Pablo because he idolises him, he made Coloring Book because he wanted to conjure joy out of struggle and he fought for the independent artist because he believes music trumps business. Now in December, he's nabbed seven Grammy nominations, is in the upper-echelons of every album of the year list and is on a sold out world tour. It's proof that sometimes conviction is everything.
[/one_half_last]
RIHANNA[one_half]

[/one_half][one_half_last]
The start of the year wasn't kind to Rihanna. The release of ANTI, the record she'd worked on for longer than any in her career, was botched and met with confusion. Work didn't beam with the anthemic, first single glow that her previous releases did and the album felt messy and imperfect. Thankfully, ANTI got better, and better, and better. That no-fucks-given public persona that Rihanna carries finally made it onto record and drove a phenomenal year. Work went number one, the tour was spectacular and raw and her FentyxPuma shoes nabbed Sneaker Of The Year. For all her imperfections RiRi was perfect in 2016.
[/one_half_last]
SOLANGE
[one_half]
[/one_half][one_half_last]
Months ago, we wouldn't have dreamed that Solange would be gracing Best Of lists. Following the release of True and a lengthy tour, she went silent again. She got married, continued her role as a mother and worked on her own label Saint Heron. Then, with only days warning she dropped A Seat At The Table. Anticipation was high but it escalated thanks to the quality of the record. It was a personal and political project pieced together by voices from people in her life. At a time when a Trump presidency was looming she hurt and healed with communities, beginning with the statement, "I'm weary of the ways of the world," and regaining her pride as the record went on. She paired that with nuanced, stunning imagery that celebrated the beauty of skin, hair and our surrounding world. She's said very little about the record following its release but she didn't have to because the message her art conveyed was so profound. To then take something so personal to SNL and sing, "I tried to work it away but that just made me even sadder," in front of a country is so brave.
[/one_half_last]
FRANK OCEAN
[one_half]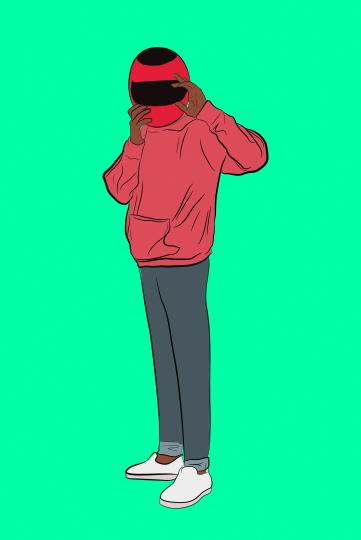 [/one_half][one_half_last]
Most fans were frustrated with Frank Ocean at the beginning of this year. He promised us an album in July 2015 and when that didn't happen, he went silent. When he did emerge on a black and white stream on his website in mid-2016, you could feel the tension build. We all hung on everything he did. With every sound, our ears pricked up, ready for the release of a new album. It took weeks and numerous rumours for it to actually happen but there was a sense that we were all watching it unfold together. Two albums eventuated - a visual one Endless and a traditional one Blonde. The former was captivating but the latter was easier to latch onto. It's an album that has revealed itself more and more throughout the year. Without barely any drums, he created a poetic masterpiece. Not a record for dancing or for festivals - a record for careful consumption. He addressed race, love, sadness and fame, referencing masters like Bowie and The Beatles with a big heart. He's gone silent again but the record is so long-lasting and enduring that it feels as if we're still conversing with him. It's a premature call, but he may be the greatest musician of our generation.
[/one_half_last]
BEYONCÉ
[one_half]
[/one_half][one_half_last]
Beyoncé has always been a powerful figure but in 2016, she used her art instead of her public voice to conjure power, making her most poignant statement of her career thus far. We need to remember Beyonce barely spoke publicly in 2016. When she collected awards, she thanked politely but on-stage and on-camera she empowered minorities and shared her own personal heartache. Lemonade was her most consistent and ambitious project to date and it said everything it needed to. It rose and fell through moments of power and weakness but when she felt the former she really soared. Her BET performance of Freedom with Kendrick Lamar was godlike - a display of the emotion you can stir when you really believe in your own narrative.
[/one_half_last]
CHARLI XCX
[one_half]
[/one_half][one_half_last]
Charli XCX is the best popstar in the world, you just don't know it yet. The Brit will be known to many as the girl who featured on Iggy Azalea's Fancy or bagged a hit with Boom Clap but 2016 proved she's so much cooler than that. She started her own label and then dropped a weird and wild, SOPHIE-helmed EP Vroom Vroom before reigning it in just a tad for her monumental pop jam After The Afterparty. She was a cheeky, compelling radio host on Beats 1 and brought the LOLs to nearly every interview she entered into. She brought the fun to a year that became very serious and it all culminated in her flashing her knickers on Australian X Factor which was a definite highlight. With 00s superstars like Britney guiding her spiritually and PC Music informing musically, Charli is about to drop a champagne-soaked pop bomb on 2017 and we couldn't be more ready for it.
[/one_half_last]
ZAYN
[one_half]
[/one_half][one_half_last]
This year was make or break for Zayn. There was always going to be attention surrounding the first member to leave One Direction but as Geri Halliwell proved, that's short lived. Instead of slinging out some half-arsed effort quickly, Zayn worked on something that he totally believed in and while Mind Of Mine wasn't perfect it had many highlights. He bagged a number one hit with one of the best pop songs of the year Pillowtalk and finished the year with a huge collaboration with Taylor Swift I Don't Wanna Live Forever. Throughout the year he spoke out when he needed to, taking down Azealia Banks for racist remarks and slamming UK producer Naughty Boy, but he remained mostly silent, only taking to Twitter to express gratitude. When he pulled out of a live British performance in June he put mental health in the spotlight, citing "anxiety", and has constantly reminded us that he's human. Even if that did mean pissing people off along the way.
[/one_half_last]
THE WEEKND
[one_half]
[/one_half][one_half_last]
2016 is the first year The Weeknd entered as a superstar. He bagged two massive hits the year before and went from a dark, cult hero to a mainstream success story. The unexpected success of The Hills best informed his follow-up Starboy. It showed that he could be damaged and twisted, pleasing the mainstream without tapping Max Martin. Working with Daft Punk, he pulled one of the biggest hits of the year with Starboy but it wasn't because of the French production duo. It's because The Weeknd is an intriguing superstar in his own right. In the public eye, his stage demeanour is changing and he's becoming Drake's closest rival. Starboy as an album had its flaws but it's hard to deny that as a hitmaker he's becoming extraordinary.
[/one_half_last]
KANYE WEST
[one_half]
[/one_half][one_half_last]
Kanye didn't really plan anything this year. He set a release date for The Life With Pablo not because he'd finished it but because he'd decided that's when it was coming out and from February, played catch-up. He tweeted without filter, spoke without filter and released music without filter with the strive for perfection he had on My Beautiful Dark Twisted Fantasy seemingly gone. Pablo was delivered on time but unfinished and it expanded over the next few months as one of the first records to grow in front of our eyes. Fans lined up to buy his merch and shoes all around the world, endorsed him for president and partied hard under his floating stage. For all his imperfections, Kanye cares and that ambition and passion is everything to his followers around the world. Pablo's a messy masterpiece but no ride was more exciting this year.
[/one_half_last]
FLUME
[one_half]
[/one_half][one_half_last]
Australian's love an underdog which makes coming back from a very popular debut hard. Empire Of The Sun, Boy & Bear and Sam Sparro are all names who have never matched the popularity of their debut and we were fearful that Flume would face the same fate. He didn't. He went bigger. Skin was a full-bodied, ambitious affair featuring Aussie newcomer like KUCKA and international fresh faces like Vince Staples and Kai. It was a record that traversed festival electronica and pop without falling into either category. When Flume came home last month to collect eight ARIAs, he proudly repped for the Australian music scene and is now on a victory lap around the country. He's fast becoming this country's biggest export and he's keeping his head while he's at it.
[/one_half_last]
MØ
[one_half]
[/one_half][one_half_last]
MØ is an unlikely popstar. She's not working with Max Martin, delivering manicured stage shows or dropping half-hearted collaborations. Despite the fact she features on one of the biggest songs of the past decade Lean On, she's maintained her fresh look at music and crafted her own hits with that as the basis. Final Song was bombastic and stirring, Drum was light and youthful and her verse on Major Lazer's Cold Water was surprisingly mournful. She's done everything her way, undeterred by trends and that's the difference between a popstar and someone who is destined to be a superstar. Without a second album to her name, it's already easy to see MO is the next in line to join the Rihannas and Madonnas of the world.
[/one_half_last]
ARIANA GRANDE
[one_half]
[/one_half][one_half_last]
For many at the beginning of this year, the mention of Ariana Grande's name would've conjured images of licking doughnuts but this year she took that and binned it. Grande has been a powerful and funny force in music for a while now. She's called out sexist interviewers, expertly impersonated Celine Dion and given just enough of her personal life to her fans. This year though, she adopted some of RiRi's no-fucks-given attitude and started having fun. She started with her most mature record to date Dangerous Woman. It was a vocally flawless record that took total control and saw her grow into womanhood seamlessly without shock tactics or stunts. From the pop perfection of Into You to the slinky vibes of Dangerous Woman, she made the record she was born to make and then started to have fun with it. She performed a song that mentions a "dick bicycle" while riding a bike at the MTV VMAs and added a sexy flavour to Mac Miller's The Divine Feminine. At this point, Grande's in total control and you wouldn't want to fuck with her.
[/one_half_last]
DRAKE
[one_half]
[/one_half][one_half_last]
Drake's the biggest artist in the world right now and it came off the back of an interesting year. VIEWS is his messiest and most overstuffed record to date and yet it's the most streamed record of the year and the holder of the most streamed song of the year One Dance. The reason for his popularity is Drake understands his audience so well. He knows they like to make fun of him, he knows they like to whinge with him and he knows they like the vibe with him. He gave us everything this year from dancehall-tinged hits to hip-hop club hits and yet it was all coated with Drake's distinct vibe. Aside from his own career, he cosigned artists and made them stars, nearly made a fairytale with Rihanna and curated an Instragram that would be wanky for anyone but Drizzy. Admittedly, we're being a bit harsh on the guy. VIEWS has aged well and it's what happens when you have the world asking for more. If they're doing that, you're doing something right.
[/one_half_last]
SIA
[one_half]
[/one_half][one_half_last]
We like to claim Sia as Australian and while technically she is, we can hardly claim her success. Just six years ago, Sia was a quirky, indie artist in this country writing music that teetered on the edge of pop. She then left this country and fully embraced her pop side, writing hits for Rihanna, Christina Aguilera and Beyonce. This year, she stepped out of the enigmatic songwriter role and became a superstar in her own right. This Is Acting spawned a number one single Cheap Thrills and led her on a tour that changed the expectations of a live performance. Without revealing her face, she crafted a live experience that played-out like a real time music videos. When she revealed it at Coachella, she shocked everyone with how visually spectacular it was and still wowed the crowd with her voice despite being tucked in a corner of the stage. She showed that pop even in its most accessible form can push boundaries and explore new realms.
[/one_half_last]
DIPLO
[one_half]

[/one_half][one_half_last]
Diplo has hopped on just about every dance music trend that has risen in the last decade but when they sink, he stays afloat. Major Lazer has been his biggest gig this year clocking another number one with Cold Water but earned some serious credit for his production on big releases. He pushed himself into a different realm and shined with Beyonce's All Night, got dark with The Weeknd on Nothing But You and finally reunited with M.I.A. on Bird Song. All the while, he's an accessible, real time DJ who consistently shares his passion and excitement for what he does to his fans.
[/one_half_last]
We've plonked all these artists onto a drawstring bag which you can buy here.