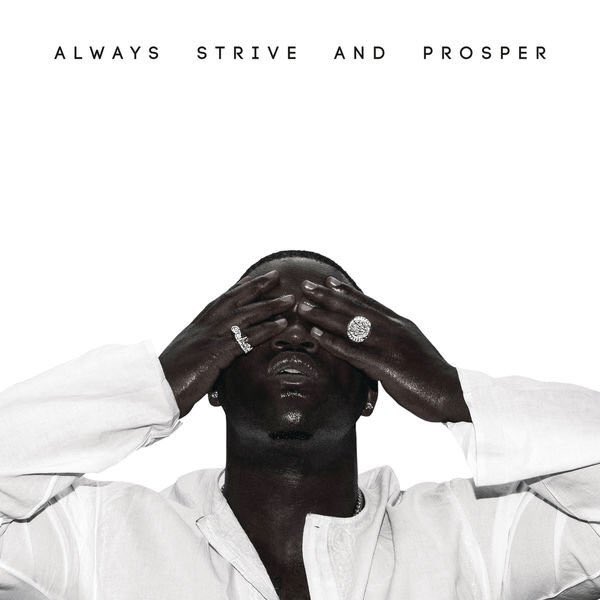 Don't think for one moment that A$AP Ferg didn't name his album opener Rebirth for no reason. We are, after all, almost three full years removed from the release of Ferg's debut album Trap Lord. Though that album was, without question, an extraordinarily enjoyable album and solid example of Ferg's ability as an artist, the content and Ferg himself appeared as though to be largely one dimensional, and the future of Ferg as an artist appeared at risk of being lost to an inability to be versatile. Since Trap Lord, however, Ferg has risen to his occasion as an artist and, in a sense, forced versatility upon himself. Whether it be appearing as a featured guest on songs by artists such as Haim or Ariana Grande, or whether it be via the content on his masterwork mixtape Ferg Forever - which, though not entirely removed from the sounds of Trap Lord, consistently suggested that there was more depth to Ferg as an artist than one might have been led to initially believe. Then, A$AP Yams died.
Rebirth, the opening track for Always Strive and Prosper (which for reference sake is what A$AP is an acronym for), is a song by Ferg about Ferg. I know, obvious, right? Wrong. This isn't braggadocios, gangster rap, where the idea is to flaunt or gloat about gold chains or Lamborghinis. This is Ferg being self-aware, being conscious and reflective. This is Ferg being defiant. Consider lines such as 'now that you're no longer a lord that's trapped' and the concept of Rebirth for A$AP Ferg as both a man and an artist is affirmed. This is 2016, studio album number 2, and A$AP Ferg is an artist reborn. Still, though, what he was remains (true evolution is, after all, not a total displacement from the past) and Ferg of days gone reappears on just the second track of Always Strive and Prosper, weaving his flow over a Skrillex dubstep beat which combines the sounds of a mosquito, a kazoo and a penguin sliding across the ice (imagine it). Admittedly, on first listen, this song - titled 'Hungry Ham' is nauseatingly abrasive. However, as Ferg has become a master of, the track is more of a grower than a shower. The latter mark is best reserved for the album's third track, Strive featuring Missy Elliot (!), which sees Ferg and Missy combining over a groovy beat, vaguely reminiscent of Britain's best dance music from the late 1990s, to create a hit more poppy than any solo track Ferg has ever previously crafted. Though quite unlike any other of Ferg's previous singles, or songs, 'Strive' is directly reflective of the rebirth sentiment offered on the album's opener. This is a more versatile, interchangeable artist than the man on Trap Lord, this is A$AP Ferg stepping out from the one dimension.
Psycho, track five, sees A$AP Ferg return to a subject matter he touched on with Ferg Forever. Once again, this is a self aware artist reflecting on days gone, musing about the past and the people in his life. This is communication, consciousness, awareness. This is an artist not afraid to explore the truth of himself and his past, and open it up for assessment. Not one to let you forget where he started, though, Let it Bang featuring TDE's ScHoolboy Q is classic A$AP Ferg, so too the same of New Level featuring Future which immediately follows. The two leading singles for the album, both Let it Bang and New Level are classic Ferg, only far more refined and polished. This isn't 2013, after all - this is 2016, this is Ferg in the process of rebirth. Never one to shy away from sharing crew love, Ferg enlists the entire A$AP Mob for Yams tribute Yammy Gang appearing at the eighth notch of Always Strive and Prosper. Easily one of the best Ferg tracks, period (indeed, the best gang track from the Mob), the bass heavy, dense beat and panicked piano lends perfectly to the blend of flows on offer from the Mob, who excel in the grimy dark corner of hip-hop that they have pioneered since the beginning of the decade. Thick, meaty bass continues like a pervasive trend on Swipe Life featuring Maybach chief Rick Ross, a track which again sees A$AP Ferg not totally displaced from the Ferg of old, yet still persisting with an undoubtedly more mature and refined sound than that of Ferg from days past.
It didn't take much for A$AP Ferg to declare himself the Trap Lord, and it took even less time for him to make a good case, but since Trap Lord saw its release in 2013 - Trap has grown, Trap has evolved. Despite his desire for rebirth, and attempts to break free of being trapped, A$AP Ferg is hardly the type of artist to let listeners believe that he hasn't been paying attention, and can't keep up. Uzi Gang, with Lil Uzi Vert and Marty Baller, is Ferg's answers to any concerns. The track is a dark and ominous middle finger to any suggestions that Trap has outgrown A$AP Ferg, instead of the opposite. Beautiful People turns up, then, at precisely the right time. An ode to beauty, a conscious celebration, is not typical to trap after all. With Chuck D and Ferg's own mother tagging along for the ride, Ferg resounds his rebirth as a mature artist - introducing himself as a worldly man, unashamed and unafraid to set himself apart and celebrate life through the means of art. Indeed, where suggestions before that Ferg was limited to being an act might have held weight, now the same can be said of Ferg, instead, being an artist. In that way, Ferg may well be presenting himself as a measure to establish the distinct difference between the two badges, through the comparisons of his work. Where Beautiful People is an ode to beauty, Let You Go (which follows) is a stripped back confession track, seeing Ferg bare himself and his feelings out over a, comparatively for A$AP Ferg, minimalist beat. This kind of honesty and transparency is, largely, unique to Trap as a whole.
World is Mine featuring Big Sean, which saw release some weeks ago before the album, (while being a solid track and further evidence of Ferg's rebirth process) might well be one of the weakest tracks on the album in its entirety. Both Ferg and Sean find themselves and their voices swallowed by the beat, droning on and out in to a soundless oblivion before too long. Separate from the album, it would be (and was) an enjoyable song, but surrounded by what else Ferg has offered up it sounds weak and empty. After a brief interruption by a phone call between Ferg and Chris Brown, the latter man pops up again as a featured guest (with Ty Dolla $ign also tagging along) on I Love You, the sixteenth track of Always Strive and Prosper. There's very little to say about this track, besides pointing out the obvious commercial opportunities which one can, quite easily, imagine being opened up to this track. Chris Brown takes the driver's seat for the most part of the song, which will likely see the song get some decent play on the radio but, in earnest, only Ferg's trademark ad-libs gift this song with any indication that it might be his - and it suffers as a result. Couple that with the fact that Chris Brown, when singing, has become woefully repetitive at this point in his career and 'I Love You' is, ironically, a song that A$AP Ferg fans will likely find very difficult to love.
At risk of closing out his fantastic sophomore studio album with a string of weaker tracks, A$AP Ferg saves himself with one of the strongest Ferg tracks to date - Grandma. This is the finalisation of the rebirth process A$AP Ferg set out to accomplish with Always Strive and Prosper. It's nigh on impossible to consider a more solid final word for what A$AP Ferg has offered than what he has achieved with 'Grandma', a honest and heartfelt exploration of Ferg's grief and mourning process for his late grandmother. There is no Shabba Ranks here, no gold chains, instead as Ferg says himself: 'I'm talkin' 'bout my grandma'.
In this instance, he talks and we listen - because this is groundbreaking for Ferg as an artist, this is an honest, stripped back exploration of the artist himself - A$AP Ferg letting himself loose in to the music and the process, to fulfil his rebirth and emerge a completely different beast to that which we heard on Trap Lord. I tweeted out mid-review about Always Strive and Prosper what I consider to, still, be the best description of the album as a whole - A$AP Ferg isn't fucking around.
8.9/10