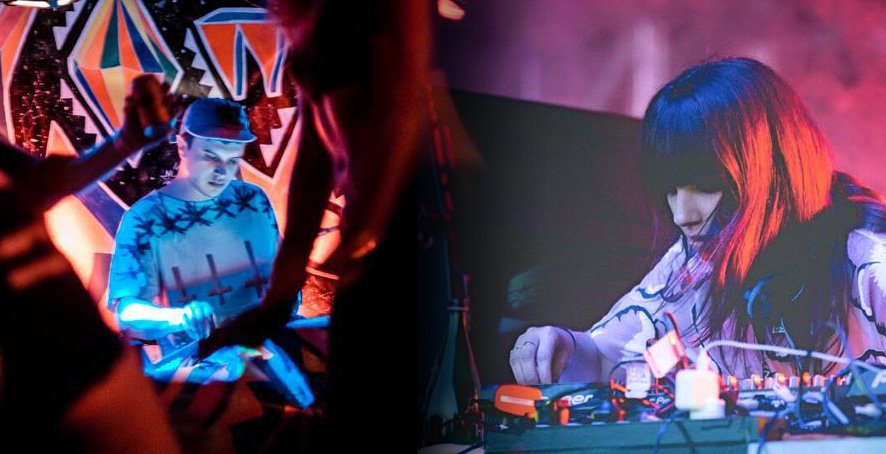 Nina Las Vegas and Swick are becoming a force to be reckoned with within the Australian club scene. The pair released two collaborative tracks last year, Don't Send and Flash Auto, and also teamed up for a national tour with some pretty special international guests. Together they are blurring the lines of what's expected in Australian clubs, forging forwards with new, interesting sounds that traverse a number of genres. Both NLV and Swick are in the middle of an Australian club tour that, by all reports, is electric. We asked them a few questions on collaboration, the next big trend in electronic music and building the Aussie club scene.
Both of you are big fans of collaboration. What do you think makes collaboration so important within the electronic music sphere?
Swick: I think it's a lot more fun than sitting by yourself for starters although sometimes by yourself is really fun too but anyway yeah working with someone else is really fun especially Nina. It's also cool seeing how other people work and usually more people hear it when there are two people involved.
NLV: I learnt Ableton by watching other people work, so when I started to get serious with making music I thought the best way to get motivated would be to share the experience with someone. I have a (ultra uncool) band life behind me, so I know that working on music with other people is always more motivating that sitting solo. Even if you're doing something on your own, even having someone else in the room with you is cool and more encouraging than trying to make all the decisions by yourself.  Plus you swap ideas and get to share sounds, samples, contacts… blah blah blah, it's just cooler.
You both get along to plenty of shows. Who are some DJs that you think put on the most entertaining sets and what sets them apart from others?
Swick: I really like Brodinski .. i love how he mixes rap with techno. I like DJ EZ he is super cool he makes djing on cdjs fun and every track he plays is a classic also Eclair FIfi she is always playing the coolest music.
NLV: I agree with Swick on this, EZ is the best. So tight on the CDJs, it's super impressive. I love seeing Jimmy Edgar play too. He's so smooth, yet can play anything from a EDM fest to small club. Anyone that sings the words as they play too, like Anna Lunoe, Sam Tiba, Jubilee and RL Grime all seem to know every lyric to every song they play… I love that.
You both toured together in November. Where do you think Australia sits right now in terms of accepting electronic music that is different to the norm?
Swick: I think it's getting a little bit better. It definitely helps a lot having people like Nina pushing cool music on the radio every week! I guess it's probably cooler here than lots of America.
NLV: We're building a scene… it's exciting. We just need the nightclubs to stay busy… that's when the cool stuff will really happen. We have no shortage of music makers now, and lovers, but we just need the whole community to embrace the culture a little more. Go see DJs because you're intrigued about what they're gunna play, not because you know what they'll play.
Can we expect any more original collabs from you two?
Swick: Yep. We have an EP coming out later this year. We have lots of fun working together so i think we will do more stuff together help each other out with solo stuff etc.
NLV: What Swick said. And we're both writing solo EPs… club stuff and pop stuff. Things we want to play out and at home.
The web seems to think that electronic music is heading in the direction of PC Music but what do you two think is the big new trend? We're also hearing a lot about grime.
Swick: I don't think anyone really knows what the next big trend is. Maybe Nina does? I am really into every kind of music so i don't think the trend stuff effects me too much.
NLV: mmmm… I think people are stripping stuff back a bit. I mean, take the new Kanye and Rihanna songs with Sir Paul. About 3 sounds? That's so tight. It's always a cycle. PC Music is a derivative of K Pop, with more rave elements. So maybe more of that… and yeah, grime… because of the whole cycle thing. The UK top 40 sound (Disclosure, Duke Dumont, Gorgon City etc) shaped a lot of different producers work last year. Like wise Flume… they're all writing second albums, so we'll have to see.
Do you think the resurrected Pirate Bay is an FBI-run honeypot? 
Swick: Was thinking about this yesterday... I hope not!
NLV: I rarely use Pirate Bay anymore so I don't care, aye.
Who do you think would kill it at Eurovision? 
Swick: Sacha Baron Cohen as any one of his aliases or maybe even himself.
NLV: I love seeing Jess Mauboy do anything so I wanna see her have another crack.
Nina Las Vegas and Swick's tour kicked off in Brisbane last Saturday. You can catch the rest of their shows on the dates below.