Every year is the year of Beyonce, but 2014 seems to have been a notably spectacular year for her. Apart from being caught up in a heated elevator argument, she's gone about her business in the best way possible- drawing press by just being Beyonce. Just being Beyonce includes releasing remixes with Kanye and Nicki Minaj, going on a joint tour with her husband Mr. Carter and dispelling break-up rumours with said husband in the most graceful way possible. Oh and there was also that smoking Grammy performance. Next month, she'll turn 32 and while she's well away from her 20s there are certainly no signs of her reign ending.
"You can say what you what I'm the shit", she sings on a remix of Flawless and she really does have a point. She certainly is the shit, but there are also some remixes and covers of Beyonce this year that also are, kind of, the shit. From twerk remixes to M.I.A led re-works, here are 10 of the best Beyonce covers and remixes of tracks from Beyonce's surprise fifth album, Beyonce.
No Angel- Tei Shi Cover
No Angel, thanks to its writer Caroline Polachek, was always the most alternative sounding of Beyonce and so it makes sense for Tei Shi to take it on. The Brooklyn artist curls her soft vocals around the already breezy tune giving a slightly more gentle skew than Beyonce.
[soundcloud width="750" height="200"]https://soundcloud.com/tei-shi/no-angel-beyonce[/soundcloud]
Flawless- Beyonce and Nicki Minaj Remix
Beyonce herself is involved in this remix and it sees her add Nicki Minaj to the mix. "I woke up like this" has become one of the biggest catch phrases of the year and this remix adds even more sass and ferocity than the original. Beyonce sings "Of course sometimes shit goes down when there's a billion dollars on an elevator", referring to that Solange/Jay Z incident while also sampling Outkast's SpottieOttieDopaliscious. As for Nicki, she's "curvalicious, pussy-served delicious".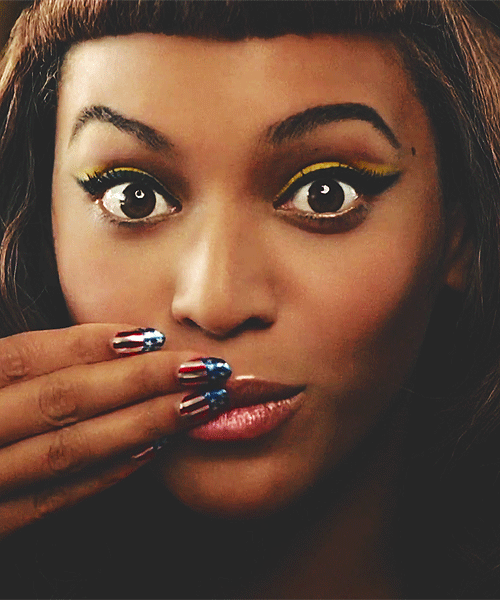 [soundcloud width="750″ height="200″]https://soundcloud.com/sitebeyoncedown/beyonce-flawless-remix-feat-nicki-minaj[/soundcloud]
Mine- Ryan Hemsworth Twist N Shout Remix
Keeping the Drake hook intact and chopping up the rest, Hemsworth makes a tribal, bass-heavy masterpiece out of Mine. He alters the Beyonce's pitch ever so slightly so that she's on her way to chipmunk but not there yet (thank goodness). Hemsworth knows that Bey's the queen and treats her suitably by making Mine that bit more heavy-hitting. He knows what's up. Bow down.
[soundcloud width="750″ height="200″]https://soundcloud.com/dope-music-blog/beyonce-mine-ryan-hemsworth[/soundcloud]
Drunk In Love- Angel Haze Cover
Angel Haze did a Beyonce around the same time Beyonce did a Beyonce by leaking her whole album at once. The only difference is Beyonce attached a price tag and it worked out a little better for her. It didn't stop Haze taking on a cover of Drunk In Love which eclipses a lot of the stuff on her debut album. She adds a few of her own raps, shows of her smokey vocal prowess and slurs a few lines just so we know she's doing it properly- drunk.
Drunk In Love- The Weeknd Remix
At one point it felt as if we were never going to hear the end of Drunk In Love remixes. At that point, The Weeknd dropped one laying down his smooth vocals with some very questionable lines. "I'll call you back if that head right", is one of them, "I won't love you unless that pussy got some superpowers" is another. I'm sure the feminist in Beyonce would be thrilled.
[soundcloud width="750″ height="415″]https://soundcloud.com/theweekndxo/drunk-in-love-the-weeknd-remix[/soundcloud]
Flawless- M.I.A Baddygirl 2 Remix
Apparently M.I.A waited to get a response from Beyonce's 'people' before just dropping this without permission because she's an independent woman. We're glad she did because this popping, gun-shot bass-driven take on Flawless captures the exact confidence of the original in a totally different way. It even samples Diva at the end giving us two Beyonce moments for the price of one.
[soundcloud width="750″ height="200″]https://soundcloud.com/miauk/baddygirl-2-mia-party-squad-beyonce-flawless-remix[/soundcloud]
XO- HAIM Cover
LA sisters HAIM are basically just like three Beyonce's, so it makes sense that their cover of XO is a sizzler. Este takes lead vocals and delivers a warm, sunset-inspired version of the track. It stays pretty true to the original, injecting just a slight alternative-flair. A collaboration between Beyonce and HAIM would break the girl-power scale, wherever that may be.
No Angel- Nire Remix
Nire is a beatmaker from New York who, earlier this year, released a collection of remixes with everyone from Ellie Goulding to M.I.A given a makeover. No Angel was one of the tracks she took on, giving it a club-ready aesthetic with deep beats and ambient synths. She keeps the vocal melody intact with just a few tweaks needed to make this special.
[soundcloud width="750″ height="200″]https://soundcloud.com/nire/no-angel-nire-bootleg?in=nire/sets/plurallure-1[/embed]
Partition- Dave Aude Remix
When you name a track 'the Twerk Remix' you better deliver and deliver, Dave Aude does on his remix of Partition. He's added horns and cascading beats making sure there's plenty of room to pop a booty or two. Partition was the sexiest song on Beyonce and Aude loses none of that steam by ramping the tempo up a bit.
[soundcloud width="750″ height="200″]https://soundcloud.com/daveaude/beyonce-partition-dave-aude[/soundcloud]
Drunk In Love- James Blake Remix
James Blake's unreleased remix of Drunk In Love is probably the most chopped and sliced one yet. His trademark skittering beats and mournful vocal coos are joined by a pitch-altered Beyonce sample to create an ambient, otherworldly take on the track. It's certainly not going to please avid fans of the original but it's a masterful reinterpretation of a track that's become iconic in a year.