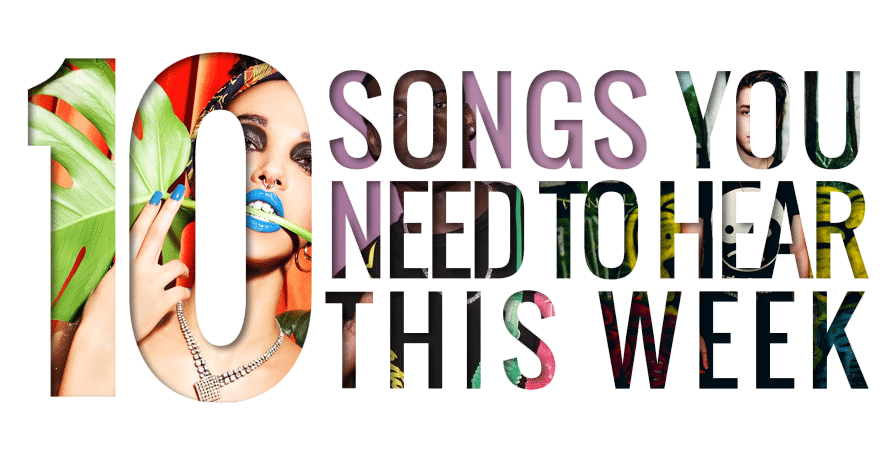 For those of you still coping with post-Splendour depression, you're not alone. As such we've made sure we've included no Splendour 2014 acts in this week's 10 Songs You Need To Hear so you can deal with it in the best way possible- denial.
Azealia Banks- Heavy Metal and Reflective
It's been a damn long time since Azealia Banks became the most hyped rapper of 2012 with 212. In that time she's fought every other artist on the planet, chucked dummy spits at shows and parted ways with her record label Universal. Heavy Metal and Reflective is the first we've heard from her since the split and it's a bit of alright. She's aggressive and confident over an industrial beat that is a bit of a runaway train.
[soundcloud]https://soundcloud.com/yung-rapunxel/heavy-metal-and-reflective-azealia-banks[/soundcloud]
FKA Twigs - Pendulum
Pendulum is the second track to come from FKA Twigs' forthcoming record LP1 and is further proof that it will be one of the best of the year. As the title suggests it's a gently undulating track bound by cascading beats and sporadic vocals. There are definitely similarities between this one and Water Me although this one feels like it's got more melody to attach itself too. Go home everyone, Twigs wins 2014.
Laura Welsh- Bound
It's hard to believe, given the attention it's received, that Kanye's Bound 2 never received any chart love. Even stranger when you think that Sigma's drum n' bass version of it, Nobody To Love, has commercial radio in raptures. One version that will rightfully have you in raptures is this cover by Laura Welsh. Taking the main hook, she transforms Bound into a smokey, love song that's perhaps one of the most poignant things she's done to date.
[soundcloud]https://soundcloud.com/laurawelsh/laura-welsh-bound-cover[/soundcloud]
Lil Silva- Don't You Love (Feat. BANKS)
BANKS and Lil Silva have already worked with each other on several occasions, the most successful being BANKS' Goddess. This dark, skittering Lil Silva cut provides the perfect playground for BANKS to lay down her brooding vocals. We don't get to hear her though until the last third with a vocal sample occupying much of the earlier stage, helping it remain more of a Lil Silva song than a BANKS one.
[soundcloud]https://soundcloud.com/lilsilva/lil-silva-dont-you-love-feat-banks/s-IEUAF[/soundcloud]
Thrupence- Don't You Mind
Future Classic has their finger on the pulse when it comes to snapping up the best electronic talent cc: Flume, Jagwar Ma or Wave Racer. It comes as welcome news then that they've snapped up 23 year-old maestro, Thrupence. Don't You Mind comes from his debut album Lessons which will be his first release on Future Classic. It samples blues singer Son House's Grinnin In Your Face, laying it atop a retro hip-hop beat that shows Thrupence's clearly extensive music knowledge and his finessed production.
[soundcloud]https://soundcloud.com/futureclassic/thrupence-dont-you-mind[/soundcloud]
Black Vanilla - Smacks
Black Vanilla is a Sydney-based supergroup of sorts. It's made up of Marcus Whale (Collarbones), Lavurn Lee (Guerre) and Jarred Beeler (Mareseilles) and separately they've released some pretty spectacular material. As a trio, however, they offer up something very different- RnB/Hip-Hop flavoured tunes that are arguably more straight-forward than any of their solo material. Case in point, their new track, Smacks. Smacks really have one intention- to make people dance- and it does so effortlessly. Beginning with what could be confused as a banjo it enters territory of deep, throbbing bass with a voice saying "are you willing to give in". It harks back to the days of Beastie Boys and Basement Jaxx and is a fresh take on the 90s nostalgia genre.
[soundcloud]https://soundcloud.com/blackvanilla-1/smacks[/soundcloud]
Fantastic Fantastic - Houses
This is the second song to feature from funk-pop duo since Never Enough and it further verifies Fantastic Fantastic as a fun, bright addition to the world of music. Sunny synths and licking guitars combined with softly-spoken, rapid vocals force you to take those firmly-planted feet right off the floor.
[soundcloud]https://soundcloud.com/sofantasticfantastic/houses-1[/soundcloud]
cln - Dayum
Brisbane-born cln (formerly known as Callan Alexander) set tongues and ears wagging back when his EP's lead single, Better Than, reached no.1 on Hype Machine in the matter of days. cln has now released his entire Sideways EP, with Dayum as one of the unheard singles. The track is peppered with Oriental-inspired instruments, held together with lulling synths with your focus broken every now and then by the almost-unwelcome vocal: 'Dayum!'
[soundcloud]https://soundcloud.com/callanalexander/cln-dayum-1[/soundcloud]
Chance The Rapper- Wonderful Everyday: Arthur
Probably the biggest treat of the week was this flip of the Arthur theme song by Chance The Rapper. He's been playing it at a few live shows but this recorded version which pulls in Jessie Ware and Wyclef Jean is definitely more affecting. It treads through gospel, hip-hop and soul ending with a stomping beat that takes it straight to church. You'd be forgiven for shedding a nostalgic tear or two.
[soundcloud]https://soundcloud.com/chancetherapper/everyday-wonderful-arthur[/soundcloud]
Diplo & Alvaro - 6th Gear (feat. Kstylis)
Ready to get a little bit low with a bit of dutty dancing? Self-proclaimed 'random white dude' Diplo, this week released a mixtape of his most popular singles, remixes and a few new ones as well. 6th Gear is one of those new ones and sees Diplo traverse trap and dancehall genres. It's all a bit chaotic as you would expect from a Diplo track erring more towards Major Lazer's style.
[soundcloud]https://soundcloud.com/maddecent/diplo-alvaro-6th-gear-feat?in=maddecent/sets/diplo-random-white-dude-be-everywhere-1[/soundcloud]
And one more for good luck (...and because we can't count)
Porter Robinson - Flicker
Porter is once again showing is love for all things Japanese on Flicker, the fourth track to be released from Worlds. A Japanese sample is sliced atop an epic, cinematic instrumental that is synth-heavy, bass-heavy and altogether climatic. It sounds a bit like the final challenge of a video game and as such rounds out our 10 songs for this week in fine style.
[soundcloud]https://soundcloud.com/porter-robinson/flicker[/soundcloud]