As the dust settles over North Byron Bay Parklands; the port-a-loos loaded on to the back of unfortunate trucks and the festivities of the weekend replaced by abandoned tent pegs and forgotten cigarette butts, it's fair to say there's only one thing on your mind as you try to shake that three day hangover and realise you're not as young as you once were: next year's Splendour. While you sit at your desk, reminiscing about all the fun you two shared, and lamenting the demise of your brief, whirlwind romance, consider this; the best way to get over someone, is to get right back under someone else. So instead of waiting and wishing for Splendour in the Grass 2014 to call you and say come home, why not jump straight into bed with Splendour in the Grass 2015, his mysterious, seductively aloof cousin, who will hold you at that irresistible arm's length for another year of teasing and hinting, promising big things and last-minute cancellations. When it finally comes time for you two to meet after a prolonged internet relationship and a rumour-mill in overdrive, you'll want to put your best foot forward and dress right for the occasion. Here we've complied a fail safe guide to dressing for your first date with Splendour 2015 as per this year's standout stars.
Wigs
Andre 3000 proved that trying to maintain a blow dry is simply unnecessary labor amidst festival conditions. Ditch the 20 minutes spent in front of a mirror taming your mane in favour of a hides-a-mulititude-of-sins wig. This will let Splendour know while first impressions and personal appearance are a priority of yours, they do not detract from valuable time that could be spent roaming the festival looking for friends or in pursuit of elusive phone reception.
Jumpsuits
While greeting Splendour itself is a three day affair, it comes sandwiched between sideshows, interviews, pre-parties, after parties and traveling nonsensical hours to reach the far corners of this inexplicably large country to party with to comparatively small (yet equally awesome) crowds. The last thing on ones mind is selecting which party pants go with which ill-fitting crop top or which mini-skirt covers just enough ass without appearing prudish. Solution? The humble jumpsuit. Donned by the likes of OutKast's Andre 3000 and Grouplove's formidable leading lady Hannah Hooper over the weekend, the jumpsuit saves time and energy when it comes to dressing for the Splendour stage. Consider it your one stop shop. Slimming and sexy, go tight and shiny a la Hooper or get ready to race a la Andre.
Tight and Bright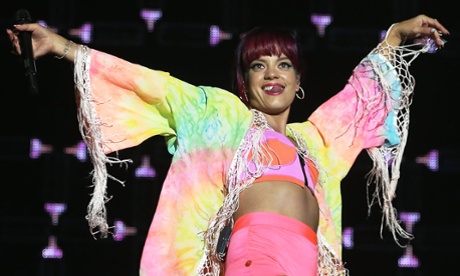 Put Simply, Lily Allen and Kelis killed it over the weekend. Why? Was it because of their undeniable vocal ability and shared status as comeback queens? Perhaps. Was it because of their killer bodies and the unexpectedly large crowds they each drew? Maybe. Or was it because, when all is said and done, the two divas donned tight and bright attire like it was 2006, when we were all at our prepubescent best, running around flushed from a game of spin the bottle at yet another Tight and Bright themed party? I vote the latter. When greeting Splendour 2015, why not mix up the standard leather and lace hippie-for-the-weekend fair in favour of some neon highlights, and can't-hide-no-VPL Lycra.
Slogans
When you meet someone for the first time, it's more than likely at some point words will fail you. Be it because you've momentarily got lost into their glassy beer goggles, or simply because the awkward small talk has run out, when the words are gone, a slogan t-shirt is your saviour. Make like Andre 3000 and have what you're thinking about emblazoned your chest.
Shoes
Splendour stars know better than most that, as you stand above the crowd, staring out over the masses while 10s of 1000s of people belt out your lyrics and willingly kneel at your throbbing feet, it's only polite to give them something to focus on as they lose their breath trying to match your lofty falsetto. Enter the statement shoe. Any girl worth their weight in Sex and the City quotes, and any guy worth their limited edition Yeezus Nike (Or was it Adidas?) trainers, knows shoes are where it's at. Consider Sam Smith stomping about in his quintessentially British brogues, or Kelis teetering atop Back to the Future style barely-there gold wedges or Mark Foster bringing back the socks and loafers like a Jackson incarnate. It's fair to say statement footwear is a festival fashion must... Unless of course it's Hunter Gumboots.
Suits
Look, if you're going to meet Splendour in the Grass for the first time and the idea of wearing a synthetic wig while jumping about in a jumpsuit selected from a palette of flamingo pinks and obnoxious oranges and stomping around in impractical footwear overwhelms you, you can always take the safe road, disregard all that has been said thus far and wear a simple, yet timeless suit like Big Boi or Yacht Club DJs.