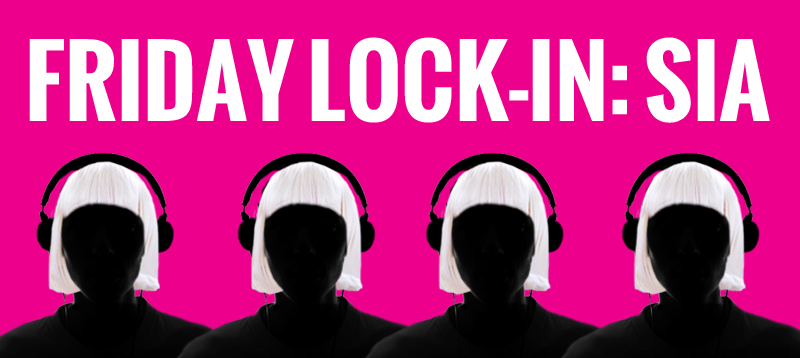 Australian artist, Sia has gone from being our homegrown hero to an International songwriter to an enigmatic superstar. Her latest album, 1000 Forms of Fear follows a brilliant marketing campaign which has centred around Sia being played by everybody from 11 year-old dancer Maddie Ziegler to a clumsy Lena Dunham. This is Sia's first album since writing hits for Rihanna, Beyonce, Christina Aguilera and many more.
We locked ourselves in, donned our wigs and unfortunately refrained from swinging from the chandelier. Read below our track-by-track discussion of Sia's 1000 Forms of Fear.
Sam: It's a good start the the album. I love it, it's such a good song
Bianca: Oh yeah I can't even explain. It's too much
Sam: Euphoric, big pop song. If you look at it in comparison to something like Roar by Katy Perry, it's just got so much more guts
Hannah: Unapologetic ballad
Bianca: Stunning
Hannah: Dynamic
Big Girls Cry
Bianca: It's the answer to Fergie's Big Girls Don't Cry
Hannah: It's perfect for 3am karaoke when you're already slurring
Sam: I don't understand what she's saying to be honest
Hannah: Apart from "Big girls cry when their hearts are breaking"
Sam: Mmmm how do we go from a song like swinging from the chandelier drunk to suddenly crying. Doesn't resonate with me
Bianca: Well, you're not a girl
Hannah: I like it, it's kind of here nor there for me
Sam: Nup, she could palm it off to Christina Aguilera or something
Burn The Pages
Hannah: It's like a pop ballad with a lot of Regina Spektor influences and credibility
Sam: Yeah, I love how she goes full on with the words in the verse and then she pulls it back and stretches them out in the chorus. It gives it so much more punch
Bianca: And the drums are always a welcome accompaniment. That marching band drum
Sam: It's got kind of like a hip-hoppy, trap, Ryan Hemsworth touch. It's cool. It's back to Chandelier good.
Hannah: You could definitely dance along to this if you saw it at a festival. Chandelier you would just scream your lungs out
Eye of the Needle
Bianca: I don't think I would choose to listen to this album in its entirety. It would just be too much Sia.
Sam: It's a bit too much of pop track after pop track after hit after hit. But that said, I really, really like this song because of the vocal run in the verse.
Bianca: Her voice shines
Sam: I can imagine singing along to this if it came on in the car
Bianca: You wouldn't know any of the words though
Sam: Yeah just make 'em up
Hannah: Sam's in the car practising his vocals runs to Sia
Sam: Always up in da car working on my vocal runs
Sam: As far as a pop album goes she's hitting it on the head so far
Bianca: Oh yeah. The fact I'm actually sitting through it says something
Hannah: It does that nice bridging between having mainstream appeal without being a sell-out
Hostage
Bianca: I just kept hearing Cyndi Lauper's Time After Time in that
Hannah: It sounds like a girl band of 10 Things I Hate About You, like that '90s grunge updated with a pop version
Sam: Like that movie, Josie and the Pussycats
Bianca: Don't you dare say anything bad about Josie and the Pussycats
Sam: I'm not! I love this song, it's my favourite so far
Hannah: It's Never Been Kissed-esque
Bianca: Yeah! Definitely. I love that calypso drum in the end
Sam: This is my favourite since Chandelier
Hannah: It's nice that this one is not trying to be ballad-y
Bianca: Shameless fun
Straight for the Knife:
Bianca: It feels like she's hyperlinking back to Big Girls Cry 
Hannah: Her mascara is running in this one
Sam: I like the really pop lyric of "you went straight for the knife and I prepared to die". It's so over-the-top but that's what great pop music is I think
Hannah: This doesn't have anything particularly grabby about it
Sam: No it doesn't
Hannah: It has these big proclamations without any 'oomph' in the song
Sam: It needs like strings and a massive drum at the end. If you're going to go over the top, go over the top, fall over the cliff. The thing is with this album I don't hate it but at the moment I'm so-so
Hannah: This oscillates between being good background music and ballads
Fair Game
Sam: Love it
Hannah: It has R&B moments as well as indie moments
Bianca: Was that a glockenspiel?
Sam: I think it might have been
Bianca: Always glockin'
Sam: It's like she's taken the R&B thing and stripped it all back to one line of keys that runs underneath it. And the verses are so subtle and wordy
Hannah: The way she bounces between her words is very '90s R&B but also contemporary
Sam: Less is more
Bianca: I feel it could soundtrack the end of American Pie where they all finally lose their virginities after the prom
Sam: It is the calm after the storm
Elastic Heart
Hannah: I really like it
Bianca: I like the backing vocals
Sam: I think Diplo's production gives it something extra
Hannah: It has a dance edge to it. If you sped it up a bit and thumped up the bass you could be dancing to that
Bianca: It would be really good remixed
Sam: Yeah. And I like that she's dropped The Weeknd by the way. I think if you're going to have no guests on the album, go all Sia
Hannah: She's enough. She's all we need
Free The Animal
Sam: I love everything apart from the chorus
Bianca: The chorus ruins everything
Hannah: The verses are great. They're hi-hoppy and poppy and have sparse beats as well as a constant groove. They're great verses. The rest is bland
Sam: It's pure pop candy followed by an iron boot
Bianca: The breakdown after the chorus is good. She's experimenting. Yelling Free The Animal is just too much though. Everytime it goes to the chorus it feels like I've switched to 2Dayfm
Fire Meet Gasoline
Bianca: A match made in heaven
Sam + Hannah: Ooooooooh
Hannah: A pun 3 minutes in the making
Bianca: No it just came to me. It just sparked (Laughs)
Sam: This is one of my favourite. It's very overtly pop but at the sametime I think I just love how it is Fire Meet Gasoline, not Meets. It's like she's introducing the two and there's something I find really cool about that. Taking off the 'S' I'm like, I'm sold and I don't even know why
Bianca: Does she know fire or gasoline better?
Hannah: Fire
Sam: Fire and she's not sure how it's gonna go and she's bringing the fire towards the gasoline like that shit's gonna blow her up
Bianca: I think that wig is highly flammable
Sam: This album is very dangerous. There's knives and fire and we're about to go into cellophane. All those things together…
Hannah: Sia likes it rough
Sam: Did she write S&M?
Cellophane
Hannah: Least favourite so far
Sam: Yeah me too
Bianca: Doesn't do it for me
Hannah: I think I'm already battered and bruised from the rest of the album
Sam: It's too much. There's cellophane and then the electricity has done something to her brain
Bianca: I don't know how this could be the second last song on the album
Sam: I think the second last song is always the worst because people get complacent
Hannah: This is a bit of a filler
Sam: She's gotta end well otherwise she's leaving with a bad tatse
Dressed In Black
Bianca: I think it's a good end to the album
Sam: Me too. She's been able to use all those dramatic metaphors and is like "yeah, I'm happy now". At the same time, it kind of gets there but it never hits the heights of Chandelier. When I first heard Chandelier I thought it was a great start to the album but now I think I would've started it with Elastic Heart and put Chandelier in the middle
Hannah: Yeah, after Chandelier it just bubbles
Sam: Maybe it grows on you
Overall
Bianca: Good work Sia, she did well
Sam: It's a good pop album. When it comes down to it she's a great pop writer, she's got a great voice and she's an Aussie girl who made it big. It's a nice story
Bianca: I'm going to give it a 7/10
Hannah: 7.6 because it always has to beat Lana Del Rey's Pitchfork rating
Sam: I was going to give it the same, 7. I think it's good.
Bianca: On that note...Sia!