Which famous DJ starred in their self-produced porn store sci-fi Christmas movie musical? Who was the English singer that flirted with Dr Karl on Neighbours? Read below for our top 10 surprising acting cameos by musicians.
Usher
Before he was proclaiming his confessions for the second time, Usher Raymond was the resident radio host / DJ in everyone's favourite '90s makeover teen rom com, 'She's All That'.
The next best thing to Rachael Leigh Cook taking off her glasses to reveal that "omg, the nerd is totally, like, pretty?" is watching Usher himself choreographing the school to dance to Fatboy Slim's Rockafeller Skank.
"Split like the red sea!"
Andre 3000
One half of OutKast, André Benjamin, had dabblings in acting preceding his portrayal of Jimi Hendrix in 2013 biopic 'All is by my Side'. He's featured in various movies and TV shows, including 'The Families', 'The Shield', 'Revolver', 'Semi-Pro', 'Four Brothers' and as the voice of Elwyn the crow in 'Charlotte's Web'.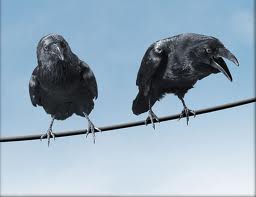 André as Elwyn (can not confirm if left or right crow).
His more notable role in his acting career was as Dabu in 'Be Cool'. For an entire 40 seconds of André's infectious laughter, see below.
Kanye West
Not even the self-proclaimed King of Everything could save Mike Myers' box office flop, 'The Love Guru'.
Who knew he loved hockey so much?
Michael Jackson
MJ made a brief appearance in 'Men in Black II', surprisingly not as an alien but instead as someone desperate for a position at the Men in Black Headquarters. I wonder if he'll make a comeback hologram appearance in 'Men in Black V'?
The highlight of this video is the fangirl's written commentary.
Moby
It seems that Moby has a fondness for erotic-themed movies, starring in 'Suck', 'Joes' Apartment' and as the character 'Dildo Head' in his self-produced porn store sci-fi Christmas movie musical, 'Moby Presents: Alien Sex Party'. Surprisingly, the latter's IMDb rating is a measly 4.2/10, with reports of Moby distancing himself from the production and even requesting to be edited out completely.
I'm going to leave it up to you to figure out which one is 'Dildo Head'.
Also worth a mention is 'The Limo' episode of How I Met Your Mother, where the gang mistake someone on the street to be Moby, pick him up in the Limo and head to his party. Upon 'Moby' ranting crazily and eventually threatening them with a gun, they realise he is in fact not Moby and hilarity ensues.
Alicia Keys
Before she was setting the world on fire, Alicia Keys had acting cameos in 'The Cosby Show', 'The Secret Life of Bees', 'Smokin' Aces' and as Scarlett Johansson's sassy friend, Lynette, in 'The Nanny Diaries'.
Backstreet Boys
One of the best TV cameos to date is the Backstreet Boys starring as a boy band-come-furry mammals(?) in 'Arthur'. The episode, 'It's only Rock n Roll', focuses on the boys' pending visit to Elwood City and Muffy's major, totally-relatable crush on Nick Carter.
Backstreet Boys did it wayyy before Chance the Rapper.
Full episode can be found here. Watch it. Your 12-year-old self with thank you for it.
Lily Allen
Starring as herself, and additionally flirting with Ramsay St resident 'DILF' Dr Karl, in 'Neighbours'.
King Avriel
Before she was a gender boundaries-pushing electro queen, 23-year-old King Avriel starred alongside Football Head Arnold as Timberly in the childhood classic 'Hey Arnold!'.
The resemblance is uncanny.
Watch 'Timberly Loves Arnold' for a full 10 minute blast from the past
Radiohead
Playing themselves in one of the most iconic South Park episodes of all time, 'Scott Tenorman Must Die', Radiohead scold Tenorman for being a 'crybaby' while he sobs into a bowl of chilli containing his parents' innards. After Thom Yorke's dance moves in 'Lotus Flower', you could almost call him a triple threat.
Poor Kid A.
Can you remember any great TV or movie cameos by a musician? Let me know below or feel free to tweet me: @bianca_interns