Awaken your senses and choose from three culinary adventures brought to you by the latest offerings from Chet Faker, Little Dragon and Todd Terje. Bon Appétit! 
(Click images for recipes)
Chet Faker - Built on Glass

If you're dining to this album, your first step is to set the scene - light the candles, pull up a chair. Built on Glass is like an aphrodisiac; Faker produces a voice & melody that flows right through your body, liable to affect your hormones, brain chemistry, energy and stress levels. The songs on this album have a psychoactive property and seductive undertones so it's recommended you pair it with an appropriate dinner plan that will be sure to make you Blush:
Hors D'Oeuvres
Oysters: the ultimate aphrodisiac. Serve fresh on ice but ensure you remove their beards before serving - Chet Faker has you covered in that department.
Entree
Figs stuffed with Gorgonzola & wrapped with crispy prosciutto. Figs are known not only for their emulation of a particular female organ but also for their association with love and stimulation.
Main
Rosemary and parmesan crusted rack of lamb with potato mash and red wine jus. The key to acing this meal is to ensure the lamb is nice and tender which for some will be a Lesson in patience but worth the wait.
Dessert
Release your problems into a bittersweet, self-saucing pudding with Melted choc-caramel and raspberries. Feel free to garnish with edible Gold flakes to give it that Midas touch.
Drink
If you're cooking for that special someone, I'd recommend you both wash this down with a bottle of 1998 Cabernet Sauvignon.
If you're dining for one, best to bask yourself in Cigarettes & loneliness.
Little Dragon - Nabuma Rubberband
The perfect accompaniment to the wistful, polite elegance of Nabuma Rubberband is French cooking of Nouvelle Cuisine. Unlike its Cuisine Classique predecessor, this culinary method takes a new direction and is characterised by lighter, more intricate dishes with an increased focus on presentation and palatial expression.
Let Go of all qualms you previously entertained about cooking in this style and attempt to Mirror Little Dragon's Yukimi Nagano's delicate precision and gentility for the following banquet:
Hors D'Oeuvres
Peking duck and Hoisin rice paper rolls
Entree
Seared scallops with Little Dragon fruit Salsa
Main
Braised pork belly with a caramel sauce, served with papaya salad. This is a French-Vietnamese favourite, combining the faire of Paris with the freshness of Hanoi. For that extra spice, throw in Bird's Eye chilli into the salad. But remember to add Only One! These hot rockets can be a little powerful for those who can't take the heat.
Dessert
Channel Little Dragon's Scandinavian heritage with a Norwegian Pink Cloudberry Cream with lavender and vanilla. A deliciously light way to end the meal!
Drink
Pair with a dry, sweet Sémillon.
Todd Terje - It's Album Time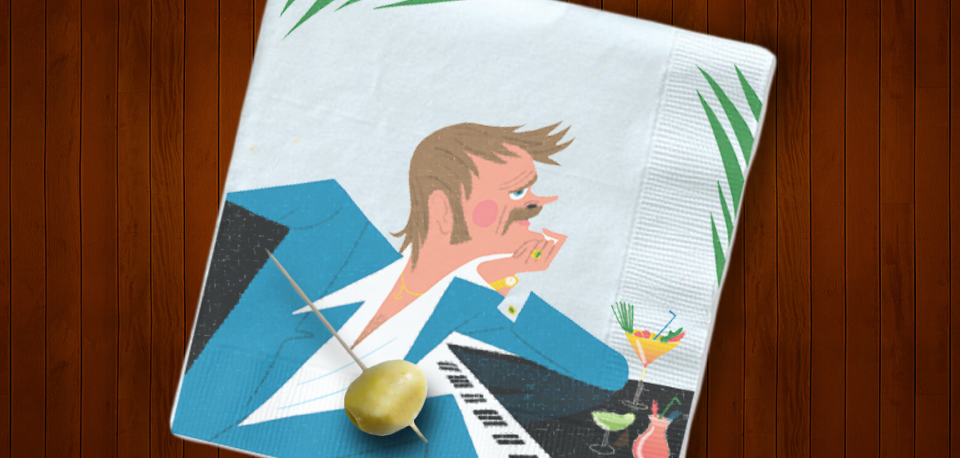 The Norwegian Duke of Disco, Todd Terje, invites you to put on your dancing shoes and step into the swingin' '60s with his latest album. Turn off the phones, disconnect your wi-fi and reconnect with the musical delicacies of yesteryear. The food, like the music, is leisurely and unapologetically cheesy - so just kick back and relax because, Ladies & Gentlemen, It's Album Time!
Hors D'Oeuvres
Devils on Horseback: the perfect old-fashioned Intro for your journey to the past.
Entree
Take your time to Inspector Norse traditional cookbook and you'll be certain to find Gravlaks - salmon cured for 24 hours in a mix of sugar, salt and dill. Top this on your mini toasts and, Oh Joy, will you have a delicious treat!
Main
Bouillabaisse. A seafood spread as difficult to pronounce as half of the songs on the album.
Dessert
Crêpe Suzette. The best part is when you get to set it alight, making this Delorean Dynamite a sure-fire way to impress your chums! Todd Terje himself claimed he likes his music 'very fruity' so don't be afraid to Swing Star fruit over the top to really make your Suzette sparkle.
Drink  
Dirty martini. Be sure not to spill it though as you cavort across the dancefloor to Terje's casual funk.