With the dust only just settling from Coachella 2014, it may seem too early to think about buying pre-sale tickets to 2015's festivities. Here are ten reasons why you should be getting out of bed (or coming home) at 3am this Saturday:
1. The surprise acts
Sometimes the best acts at Coachella aren't even on the bill. With this year's surprise appearances including Busta Rhymes, Usher, Jay Z, Justin Bieber, Beyonce, Snoop Dogg, Mary J Blige, Lauryn Hill, Pusha T and Gwen Stefani (just to name a few), it's likely that 2015's guest appearances are going to be bigger and better than ever.
Although recent events might mean this is the last time you'll be seeing this:
2. The plethora of artists to suit your tastes
With the 2014 lineup reaching almost 150 notable artists, even before its surprise acts,  you'll be hard pressed to find a spare moment. So much so that you won't even have the time to care about spotting the celebs that don't care about spotting you.
Don't let this large number overwhelm you though. Coachella gives you the ability to go with the flow and even stumble into acts you didn't know you wanted to see.
3. Best workout of your life
Between the thigh squats (otherwise known as getting low), the fist punches brought on purely by a lack of knowing what else to do with your arms and the ab crunches from laughing too hard, the Coachella workout is a surefire way to drop some kilos. Or work off that delicious slice of pizza from the Heineken Bar.
4. Experience appreciation for new music
Coachella 2014 brought a host of lesser known acts that are likely to be big names by the time the festival rolls around next year. This year's bill saw the likes of BANKS, Courtney Barnett and The Preatures taking to smaller stages off the back of huge international hype. Just imagine where Lorde was in 2013...
5. The ultimate road trip
With initiatives such as Carpoolchella offering VIP tickets for life, all access guest passes and ferris wheel vouchers simply for carpooling with four or more people to the festival, there's no reason to not road trip.
6. Maybe 2015 will be THE year...
With punters getting Daft Punk'd by indie-rockers Arcade Fire at the start of their 2014 headline set, maybe it's a sign of things to come?
Or perhaps we should just take this as the best we're ever gonna' get. 🙁
7. The technology / special effects
The lighting and special effects paired with each set were on a level not seen at any Australian festival. You  could even forgive Muse for over-delivering on the flame throwers (I didn't need those eyebrows anyway) and the broken crane which left Matt Bellamy suspended oddly in the middle of the crowd.
Also, expect to have THIS GUY zooming above your head during the bigger bands:
Yes, that's a camera drone. Yes, we're living in the future.
8. The Quirks
The fashion
At Coachella you will discover that your fellow punters will take this chance to flaunt some questionable fashion choices but strangely you won't hate them for it and might even (god forbid) embrace it.
The art installations
A roaming, giant spaceman. Need I say more?
The sign language interpreter
Watching the sign language interpreter attempting  to keep up with Andre 3000's rapid-fire roll of the tongue in Roses was almost as entertaining as the entire set. Here's hoping Coachella will hire this guy next year: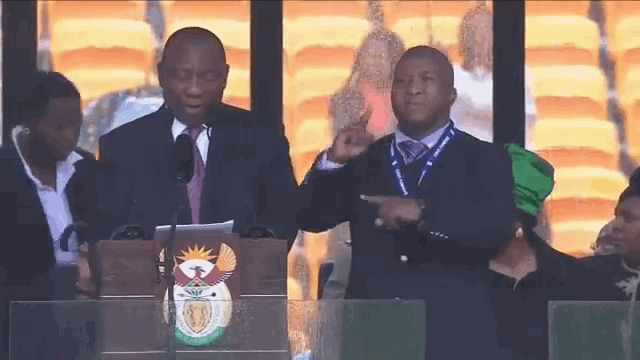 "I know you like to thank your shit don't stank"
9. The before/during/after parties
Start the day in the pool, end your day in the pool. Both in very different states of consciousness. If this is your style, we recommend staying at The Saguaro.
10. The payment plan
We can't all expect to afford to blow a cool $US375 in one go, not to mention additional travel and accommodation costs, nor can we be as #blessed as some celebs and actually earn money by simply attending (looking at you, Vanessa 'McHudgens'). Thankfully, Coachella has provided us with a  payment plan more attractive than your average infomercial.
Coachella 2015 is scheduled for April 10th through 12th, followed by the second weekend from April 17th through to 19th at the Empire Polo Grounds in Indio, California.
General admission passes are priced at $US375 (currently $AUD400.46 for those too lazy to currency exchange it), while VIP passes will cost you $US799.
Set your alarms for an early wake up, Australia. Pre-sales kick off early Saturday morning at 3:00am AEST (Friday, May 16th 10:00am PDT) from http://www.coachella.com/.